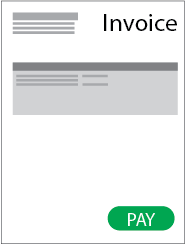 One of the most time-consuming processes for accounting is accounts payable (AP). In fact, the entire process from receiving and reviewing invoices to paying the vendor is riddled with opportunities for errors. To make matters worse, 77% of invoices received by companies are in a manual format such as hard copies, PDFs and emails, and the average cost to process one invoice is $34. There is, however, a way to put an end to these ever-present accounting woes – automate the AP process.
Reasons to Automate the AP Process
Let's look at the benefits of automation:
Save Time – Using optical character recognition (OCR) technology, AP automation software reduces the need for manually inputting information from an invoice into your firm's accounting system
Eliminate Errors – With less reliance on manual input, the element of human error is greatly reduced
Faster Processing – AP automation software allows for faster approval since the software will flag invoices that have inaccurate information
Reduce Double Payments – AP automation software will flag a duplicate invoice when on the rare occasion a company accidentally sends two or more of the same invoices
Gain Greater Insight – With invoices in one system, firm leaders and the entire accounting staff can quickly evaluate spending using easy to read dashboards
Improved Relationships with Vendors – By paying invoices faster, your firm will have a better relationship with vendors and even possibly get an early payment discount
Better Staff Utilization – Instead of having accounting experts processing AP, they can work on more important accounting tasks
AP Automation Solution for Deltek Vision & Vantagepoint Users
For Deltek Vision and Vantagepoint, SAP Concur integrates with these ERP systems utilizing the Blackbox Connector integration. When you begin using Concur, you can have all your vendors email invoices to one specific email address. Concur will then use OCR technology to collect the information contained in the invoice which can be reviewed by a member of the accounting staff to approve or deny payment. Once approval has been given, a check or ACH payment can be made.
It's important to note that Concur then uses Expense Types to link all invoices to the correct GL account. This information is then extracted on a nightly basis into your Deltek system keeping it up-to-date. See, it is actually quite simple. Let Concur AP automation work for your firm!