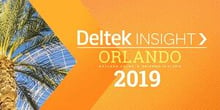 Deltek Insight 2019 is just around the corner, and it is time to start making plans! This year the conference will be held in Orlando, Florida from November 18th through the 21st at the Gaylord Palms Resort & Convention Center. If you have been thinking about attending this year, but are just not sure, let's take a look at some of the amazing reasons why you should attend.
Expand Your Understanding
Deltek offers so many products that can be beneficial to your business. At Insight, you can customize the events you attend to cater to your specific firm needs. Figuring out which sessions are best related to your firm needs allows you to get the most out of Insight and gain the knowledge required to take your business to the next level using Deltek products.
In addition, our experts from Full Sail Partners will be on-site leading sessions that will get you on the right track with some of the trickier Deltek products. If you are having trouble with configuration planning, Michael Kessler, PMP will be speaking on implementing projects and resource planning. If you want to learn more about implementing the Asset Management Module, join Kelly Duguette as she shows you how to enhance module usability. You can check out everything Full Sail Partners is doing at Insight 2019 here.
Finally, if you need a little more help with a certain area, you can meet with a Deltek expert who can assist you with whatever problem needs attention. You can set up a 1 on 1 meeting with an expert which will last around 45 minutes. These meetings are first come first serve and the slots fill up fast. Getting one on one expert advice provides new insight on your products and is another great reason to attend Deltek Insight. For more information about these sessions click here.
Mingle to Grow Your Network
With Insight being one of the largest conferences for Deltek users, the opportunity arises to connect and mingle with others in your field of work. You will have the chance to speak with people from around the world that you normally would not be able to meet. There will be plenty of time for learning and growth and collaborating with these people in your industry might help solve a problem you have mutually experienced. The Celebrate Insight event which takes place on Wednesday the 20th also offers tons of food and socializing with the rest of the Insight attendees. You will surely leave Deltek Insight with new solutions and awesome connections
Have an Experience Packed with Fun
Deltek Insight will kick off Monday, November 18th with a pre-conference workshop from Deltek University that will boost your knowledge. After that, there will be a general session where attendees will learn the schedule of what's happening throughout the four days of Insight. In the evening, there will be a welcome reception where you can visit the sponsors' booths to gather more information. Make sure to stop by the Full Sail Partners' booth and see what we have been up to this year!
As mentioned before, the annual Deltek customer appreciation event, Celebrate Insight, is always the highlight of the conference. It will once again be a great event featuring dinner and drinks, concerts and games. With the party venue located in Florida, this year is something you are not going to want to miss.
Register Now for Deltek Insight 2019
With so much to look forward to this year at Deltek Insight, you'll surely want to sign up! From the opportunities to network, to learning from experts, to having fun in Florida, it is worth attending this year! Register now, and we can't wait see you there!