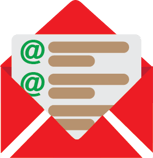 Email marketing is one of the most cost-effective tactics for acquiring new clients and re-engaging existing customers. So why is it that so many firms are resistant to adopting a dedicated email marketing strategy? Failure to implement a dedicated email marketing strategy focused around best practices can lead firms to experience lackluster email results. This blog is going to dissect the most common reasons emails sit unread and collect dust. Apply these tips to start winning the battle for the inbox!
Common Mistakes Keeping You from Winning the Battle for the Inbox
Unclear subject lines | Did you know that 33% of email recipients open email based on subject line alone [source: Convince & Convert]? Experience greater success with your emails by providing your audience with a compelling reason to open your email. In other words, make the subject line attractive to your intended target so that they want to read your email!
Missing the mark on content | Not every member of your audience is interested in the same content. The foundation of a successful email marketing campaign is grounded in keeping content relevant to your readership. Utilize your CRM system to drill down your segment list and keep your content relevant to your audience.
One way flow of communication | Have you ever received an email from a 'do not reply' email address? This type of tactic comes off as impersonal and will leave a sour taste in a recipient's mouth. When companies send out mailers from a 'do not reply' address they tell their audience that they don't care to have a real conversation. Give your audience the impression that you are receptive to feedback and you will be amazed at how active your subscribers become.
Too many links, not a clear enough call-to-action | Links to important content can be helpful and convenient for readers. As a content provider it is important to tread carefully here! Too many links can detract from more important content and confuse your readers. Focus on your message at hand and optimize your emails to drive viewers to engage in your call-to-action.
Get the Most Out of Your Email Marketing Campaigns
We hope that you have learned something from this blog that can be applied to your email marketing efforts. Remember that each email campaign is an additional opportunity for you to attract and delight your audience. Following these best practices can make a huge impact on your outbound efforts and lead to increased conversions and growth in your subscription base.
Interested in learning more about winning the battle for the inbox? Join us on February 8th to learn how to take your email marketing efforts to the next level.