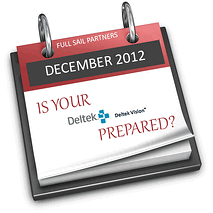 Year-end is always a stressful time of year, but it doesn't have to be. As with everything else in the world of Accounting, planning and preparation is the key to a successful and stress-free year end.
Here are just a few tips to make your year-end close just a little easier:
Communication – It is vital to communicate to the rest of the firm that year end is approaching and the important dates that they should be aware of: final timesheet due date, final expense report due date, etc.
Create a calendar – Your calendar should contain all of your year-end deadlines: final AP check run, final timesheet due, final bank rec are all dates you may want to add to your year-end calendar.
Create a year-end manual – Given that year-end procedures change very little from year to year, create a manual. With a manual to refer to, you no longer have to rely on your memory or cryptic notes you may have taken in years past.
Reconcile on a monthly basis - Stay on top of your monthly reconciliations. Nothing adds to the stress of year end more than performing several months of reconciliations that could be done monthly.
Recurring transaction files – If there are yearly JE's or other transactions that you only post once a year, consider creating a recurring transaction file. Each year those files will already be in place so you don't have to re-create them from year to year.
Order year end forms well in advance - Why wait until the last minute to order your 1099 and W-2 forms? By ordering your forms in advance you know they are on hand when you are ready to process.
In addition to the tips above, Deltek publishes the Year End Bulletin each year. This is an excellent resource for year end preparation of your Deltek Vision System.

Just remember to stay focused and keep organized and along with the tips outlined above, you will be surprised at how easy and stress free year end will be!