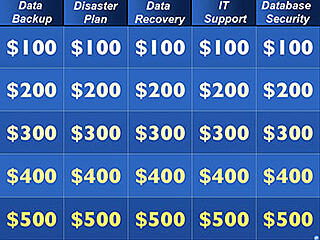 In my day-to-day conversations with companies I am often discussing IT support issues surrounding their firms' backup plan for their firms' key financial and marketing data. As I speak to these firms I inquire about steps they are taking to protect this critical data. I often pose this simple question "How long could your firm survive without access to this critical data?" Most firms indicate that they could not afford to be without access to this data for more than a day or two. Yet most have not taken precautions to have a 1-2 day restoration plan/ disaster recovery plan. In many cases these IT support issues seem to be a direct correlation to the firms' reduction in IT support staff (internal & external) over the last several years. In many of these discussions it is often discovered that there is no backup plan for the firm's critical data, no testing of backups to verify the integrity of the backups and no off-site backup storage. Two fairly typical conversations have occurred over the last couple months (names omitted to protect the guilty).
The first required assistance to move their financial database from a crippled failing server to a new server. In the process Full Sail Partners' Consultant requested to have the firms IT support to provide a backup of the Live Date. Upon restoring the backup provided it was discovered that the firm had been backing up a sample database for over a year and had never backed up their "Live" database. Thankfully disaster was avoided when Full Sail Partners' Consultant was able to successfully make a backup up of their "Live" database on the dying server and restore it onto the new server (before failure happened), prepare accurate backup plan and validate the backup to verify that it was actually the "Live" database. Not sure they know how lucky they were to still be in business.
The second conversation was not quite as fortunate. This conversation started after they had their production server crash in a fluke lightning storm. Full Sail Partners Consultant was able to get the firm back up and running in less than 3 hours. However, after several attempts to recover their database, it was determined that the most recent valid database backup was over 3 months old due to not having regular off-site backups.
Often times firms hear these stories and ask how can they help their firm from becoming another story. I typically tell them that they need to make sure that their IT support either internal or external need to be verifying the integrity of the their database backups and also need to be storing these backups off-site. For those firms that may not have the desired level of IT support, Full Sail Partners now has both Hosted Solutions as well as On-Premise solutions for Deltek Vision to protect your firm's critical data.

View our past webinar to learn more about what your firm can do to protect your data and ensure you have a back-up checklist.