Introducing New Features in Deltek Vantagepoint 4.5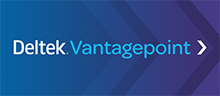 You get new enhancements, and you get new enhancements! Everyone gets new enhancements in Deltek Vantagepoint 4.5! From simple and small enhancements like making saving simpler to exciting capabilities like expanding grid data exporting to more hubs, Vantagepoint 4.5 just got the most improvements since its inception.
During this webinar, you will learn about the advancements Deltek has made to:
Proposal automation
Billing invoices
Custom reports
Dashboards
And more…
Join us on November 17, 2021, at 1:00pm ET to find out about the enhancements in Deltek Vantagepoint 4.5!
Presenter:
Theresa DePew, Senior Consultant at Full Sail Partners
***All attendees and registrants will receive the recording of the webinar within 24 hours of the completion of the presentation.