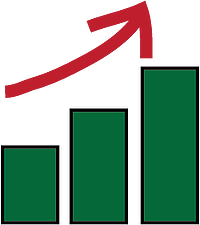 At its most basic level, the practice of benchmarking provides perspective into why some companies perform better than others. As a result, it helps business leaders find and exploit opportunities for improving operations and results.
Another aspect of the importance of benchmarking is that it can stamp out incorrect assumptions that lead to complacency. For example, for some business owners, the easy (and convenient) takeaway from the recent Great Recession is that its pain was spread more or less evenly within each industry sector.
The problem is, this often wasn't the case. In fact, in almost every sector you examine, there was a small group of firms that made it through the recession in better shape than their peers, as measured by the most relevant metrics.
Was it just luck, or were they doing things differently? This is where effective benchmarking can really pay off.
How to get started
A good place to begin is understanding the most relevant key performance indicators (KPIs) in one's industry. For example, our work with clients in project-based industries has put a spotlight on the importance of benchmarking such metrics as:
Utilization Rate
Net Labor Multiplier
Operating Profit
Current Ratio
Employee Turnover
And various others
The next step is to systematically track and monitor these KPIs. Hopefully, you're already doing this; but if not, there are a number of financial/accounting software packages that can do so. (At Full Sail Partners, we offer an alternative solution that tracks this data: Deltek Vision. It also streamlines project management, improves visibility throughout the project life cycle, and … okay, that's a topic for another blog!)
Finding a good yardstick
Once you have sufficient data on your KPIs, the next step is to find external data to compare it to. This is not easy or simple — but still very doable.
Of course, one solution is to hire a consultant to analyze the relevant competitors and metrics. But a far less expensive approach is to find the data you need on the web — preferably in the form of third-party studies of your industry.
As a case in point, Deltek publishes an annual performance study of firms in the architecture and engineering field that examines all of the most relevant KPIs for that industry. More importantly, the study mines through the data to isolate some very interesting differences between the highest performing firms and the rest.
Among other observations, the most recent study found that overhead and utilization rates were basically the same at all the firms studied. But the high performing firms were unique in sharing several key characteristics, including that they had improved efficiencies in their project lifecycle and had developed a defined set of company standards.
Other types of freely available studies can inform the benchmarking process as well. For instance, the marketing firm Hinge has produced a series of reports that examine high-growth firms in a variety of professional services industries. Like the Deltek study, Hinge's study found interesting lessons in how the most successful firms are doing things differently. It also exploded some myths along the way — like the widely-held belief that a tendency toward high growth among certain smaller firms is a statistical fluke.
The key is, do a little digging, and you can readily find some metrics of the top-performing firms to compare your firm to — and more importantly, take lessons from.
Add benchmarking to your management mix
Of course, the importance of benchmarking is not that it's a silver bullet for growth. It's more of a management philosophy and commitment that emphasizes keeping an eye on the most important KPIs within one's firm and industry, finding meaningful comparisons among top-performing competitors, and adopting proven strategies for improving growth and financial performance.
Interested to learn how Professional Services firms position themselves for future growth and meet the challenges of potential ownership transitions? Read expert opinions from Deltek, Rusk O'Brien Gido + Partners and DiCicco Gulman and Company (DCG).