SaaS, ERP, CRM, LOL blah, blah, blah. Today everything seems to be reduced down to acronyms, to fit into our fast paced instant message, text, and Twitter world. However, many times we can be left out of the story because we don't know what they mean. So, what does ERP mean and what are some of the common related terms? To help you decipher this business jargon, let's discuss what it is and how it can help firms.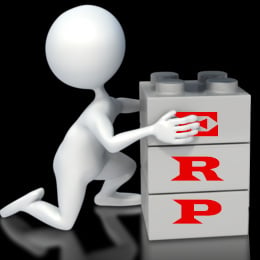 ERP – Enterprise Resource Planning is a system facilitating the flow of information between all business functions, from your Finance and Management Accounting to Project management, Client Relationship Management (CRM – see more below), Human Resources, Inventory and Purchasing.
The benefit of an ERP is your business efficiency can improve dramatically as all your business processes are automatically synchronized. The real-time functionality allows for upper management to react quickly to changing dynamics in the company and the economy.
Some of the characteristics to look for in a "good" ERP solution are:
Operates in "Real-Time", reflecting what is going on with your business now
Database that supports all applications and allows for minimal duplication of efforts
Consistent interface throughout the system for ease in training staff
SaaS – Software as a Service is a software model where the software and data are centrally located on the "cloud" (see below). SaaS solutions are typically accessed via a web browser allowing access from any location. SaaS solutions have become popular over the last several years.
Some of the benefits of a SasS model are:
Easier administration at the client level as all updates, and patches are handled by the provider on a timely basis
Management of the data back-ups
Subscription feel providing a lower up-front investment compared to traditional software models
CRM - Customer Relationship Management is a model for managing a company's interactions with current and future customers. A typical CRM system will synchronize sales, marketing, customer service and technical support (if applicable).
Some benefits of a CRM system are:
Identification of top clients allowing for better customer service focus
Increasing information sharing between employees
Allowing systems to track client contacts
Providing visibility into sales and marketing efforts
SQL – Structured Query Language is a programming language that allows access to and management of large amounts of data. The data is stored in a relational database and offers the user the ability to manipulate and view the data in various ways. Efficiency is the main benefit of a relational database as the data can be easily formatted providing ease of grouping and comparison.
Cloud refers to using the internet to access programs and data. Operating in the cloud has some real advantages in that you can access your data anywhere at any time and the cost of maintaining local hardware and operating systems are reduced (somewhat replaced by the cost of the cloud operations). Some concerns are ensuring data integrity and security, reliability, limited customization and latency. Be sure to check out this whitepaper for more information about the cloud.
Project-Based ERP is an ERP system built to meet the needs of project-based industries. Project-based industries generate most of their business via individual projects (as opposed to producing widgets). A project-based ERP will allow managers to track the life-cycle of individual projects from the initial proposal through project close-out. This allows management analysis of the success (or challenges) of individual efforts, apply best practices and come up with a company policies and procedures.
Open Architecture refers to the ability to add-on, customize or upgrade components of existing system software. Software that has open architecture publishes or makes available its structure allowing for developers to access and manipulate. In some cases this allows direct access via an OBDC (yet another acronym meaning Open Database Connectivity) connection or information sharing via an API (Application Programming Interface).
Of course this is only a snapshot of what you hear out there. Hopefully it will serve as a starting point so you expand your research ERP. New terms are created daily (just check any 15 year olds text messages to see) so this may be obsolete by the time it is published. However, it does help you get a handle on the terms you have heard on the news, business reports, and around the office. And now when someone asks you 'What does ERP mean,' you'll have the answer!