You are the leader of a company. People look to you for establishing goals, creating direction and for driving the company's success. When looking at managing change, your perspective is from 5,000 feet … but with all the responsibility of the minutiae. This second installment in our Management of Change series focuses on how you, the executive, must navigate your employees through the rough waters of change to the calm seas of success. Here are the important steps.
1. Establishing goals
In order to effectively manage change, an important first exercise is a goal setting session with the entire leadership team. Unfortunately, we hear too often, "I know it's important, but we don't have time for goal setting meetings with all the other meetings we already have."
Without goals, though, here is what you're doing. Let's say you want to take a vacation. Great, now book your flight(s), reserve a hotel room, and schedule some activities. But wait – where are you going? Is your hotel room in the same place as where your flight landed? How much is this trip going to cost? Are the activities in the same area as your hotel? In your personal life, of course you know all the answers to these questions, because you already had your goal, your destination in mind and your family buy-in before making decisions and actually spending money. But do you lead your company with this same clarity of purpose? Do you have clear and specific goals and the consensus of the management team before making decisions and sending money? Too many, regrettably, do not.
It is time consuming and difficult, but absolutely necessary to establish clear goals that also have the buy-in of every member of your leadership team.
2. Creating direction
Now that you know where you're going, how are you going to get there? As we discussed in our first piece, "change management requires a structured approach for lasting benefits", that structured approach is the direction, the roadmap that the executives of companies need to create in order to reach company goals.
Of course, you know all this already; you spend hours of your valuable time in seemingly endless business planning sessions. But this is a bit different. When looking at change, you are not just trying to reach a goal, like higher profitability or increased revenue, but you're working to reach a goal of minimizing any negative impacts change might bring. Change is usually required most often as a result of
External forces like politics, environment, or technology
OR
Internal requirements like a major reorganization or change on offerings
Another thing you are already quite aware of … change is hard. It effects not only your established company processes but, more importantly, the people in your organization.
Process Changes
When change impacts your processes, every area in your organization is impacted: Finance impacts HR which impacts Marketing which impacts IT which impacts … well, you get the picture: Your company is an interrelated amalgamation of interactive expertise. Although executives often speak in department silos – "Let's work with Finance on that new report" – we all know that the report depends on information from every other department in the company which means that "new report" is not just Finance's responsibility but every department's responsibility. And why? Defined as a series of actions or steps taken in order to achieve a particular end, process is what drives your company's every day activities which ultimately lead to the achievement of your company goals.
People Changes
But there's more. While change impacts your processes, it's the people in your organization who are actually running those processes, and it's the people who struggle with change (yes, even you executives are people who struggle with change too). Peter Drucker, Wikipedia tells us, "whose writings contributed to the philosophical and practical foundations of the modern business corporation, says that 'We now accept the fact that learning is a lifelong process of keeping abreast of change. And the most pressing task is to teach people how to learn.'" Change is indeed a hard and necessary evil but can be abated with training which is the next most important part of company-wide user adoption of change.
3. Drive Company Success through Powerful Tools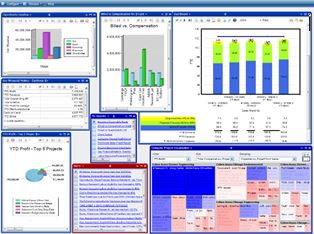 So what are the tools to allow you to be an effective, involved leader of the management of change process? Quite simply, an executive dashboard in a technology solution from a company like Full Sail Partners who can customize software for your change management project. Dashboards, like the one pictured here, can allow executives to get a snapshot of activities taking place during the change process ensuring that you have a pulse on your project.
Bottom line
As the executive, you have many roles – not the least of which is company change agent. A tremendously important role necessary to allow your company to continue to flourish in the wake of ever-changing internal and external environs. The leadership team must clearly define goals and create a clear plan for reaching those goals keeping in mind:
a) The impact of the changes in process and the people who are required to do them
b) The tools and the allies, like Full Sail Partners, Inc., that you have access to which will help manage your change.
Now is the time for company executives, like you, to accept the challenge of change!