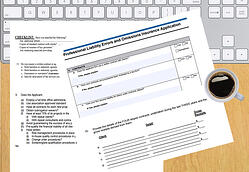 I don't know of a single Professional Service firm without a formal contract management process. Firms spend significant dollars purchasing contract templates and some even retain legal counsel for review. Everyone knows that the contract is an important document in any project undertaking.
Nevertheless, those same firms often begin work without getting the document signed!
Does the importance of the document cease once work has begun? Of course not. But what happens is that the production machine must and does begin before the administration machine can catch up. The contract seems to be subjugated to more pressing needs and the team begins operating on 'Good Faith'.
External stakeholders have a vested interest in the firm's contract habits. Professional Liability Insurance applications have at least a few questions relating to whether or not a contract is required, how much work is performed without a contract, and so on. Even the bank wants to know about the status of firm's contracts and the processes employed. Banks analyze aging or large Accounts Receivable (AR) and next ask about the project's contracts status. Both want to assess the risk inherent in providing their products to the firm.
It's All About the Risk
Business is risky. There is no way to eliminate it, only to reduce. Written contracts certainly mitigate risks. Signed ones reduce it further.
Having a signed contract doesn't guarantee against litigation. There are always competing interpretations of the language after the fact. Better contracts decrease collection time and reduce disputes.
Not having a signed contract does not mean that the firm will not be paid. As long as it is clear that money was to be exchanged for services, there will be some value exchanged. However, the firm might have to perform more work than intended for the stated amount. Additionally, it might mean considerable expense or time attempting to get those dollars.
The truth is, all Professional Services firms have a tendency to do some work without a contract. How much, how often, and with whom is important information that should be assembled and available for review by stakeholders to stay informed about the risks of the firm.
Leveraging the Deltek Vision Contract Management Feature
The Contract Management feature included in Deltek Vision's Finance Core is one such tool that can be used to assist in accumulating information on this risk factor in the firm. The tool and system are designed specifically with project-based firms in mind. Let's take a look at how this feature can help:
Track It
Deltek Vision Contract Management allows users to track multiple contract documents, their origination and approval dates, status, and fees requested per document. Because the information is entered on each project, it makes a variety of reports and workflows available allowing for efficient and integrated contract tracking. Optionally, information can be extended neatly into the Project's Work Breakdown Structure which will allow users to easily see which documents created and amended the fee on each level.
Identify It
By using the Contract Management area of the Project Info Center, users can add the information to reports already in use. Both the Project Summary and Office Earnings allow the Contract Management fields to be selected as columns to appear along-side the existing data on firm reports. Contract statistical data can also be used as a filter on other reports.
Manage It
Integrating project contract information into Deltek Vision allows users to employ the powerful workflow engine in the software. Vision Workflows enables Contract Management users to automate the reporting and informing process around Contracts.
Consider these workflows:
Notify Project Manager and/or Principal when a contract has been marked as Approved
Remind a user of special handling when a contract exceeding $XXX,XXX has been created
Update a column on the Project record when a contract record has been inserted
Use It
Deltek Vision Contract Management users can leverage the information about contract status in other organizational processes. The Contract Management fields are available as filters on any project-based report. This allows the contract status to become a part of the firm's management process.
Consider using Contract Management data and filters in these activities:
Client Management – Create a Project List report for active projects and sorted by Client. Include Contract creation date and status as columns to get the most from the client check-in call.
Collections Management – Create a scheduled report for outstanding AR where contract documents are in 'Pending' status. Create an AR alert for projects with certain contract status'.
Employee Management

– Use the Optional Sales Credit feature to measure employees' participation on specific contract documents. Use in reviews or statistical reporting.
Know the Risk and Accept It
None of us live in a perfect world where a single project meeting hasn't been had until the contract is signed. However, our focus should turn to understanding and measuring the risk that will be taken on. Firm management should be well informed of the status of the firm's contracts and have the necessary information on hand should they need to intervene. To support this, contract tracking and management should be integrated with the projects to which they relate. Your Vision software is already well equipped to assist you in the mechanics.
To get started today you can:
Review our technical webinar on the Contract Management feature
Enter a test contract or two to understand how the feature works
Later you can:
Identify how your current process can improve with automation, integration and reporting
Backfill existing contract data
Contact a Full Sail Partners consultant for more advanced training to customize menus, write workflows and complex reports.