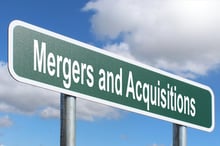 With growing global political tensions, trade wars and volatile markets, one would assume that mergers and acquisitions (M&A) activity would slow down. However, this has not been the case. As a result of US tax reforms and a reduction in the US regulatory climate, firms are retaining larger amounts of cash reserves. Furthermore, according to a recent Deloitte survey, M&A activity will continue to increase throughout 2019. Here are some reasons for this trend.
Need to Diversify
Architecture and engineering (A&E) firms must diversify their service offerings to continue to win new business. Diversifying in the A&E industry is usually in reference to purchasing or merging with another firm that has a different set of skills. For instance, an engineering firm specializing in soil science has a desire to offer a different service like water control which requires it to acquire or merge with another firm. Therefore, M&A activity will continue to grow to meet these needs.
Generate Firm Growth
Historically, firms have used excess cash flow to pay down debt, purchase shares back or simply retain cash reserves as a backup. However, A&E firms are now finding that acquiring another firm is a simple and lucrative way to grow business. Essentially, this allows a firm to increase its market share and acquire a competitor's client base.
Demographics are Changing
Many A&E firms are private companies owned by baby boomers. These owners are starting to look for an exit strategy, and an easy solution is to put the business on the market. By doing so, owners can request for bids to purchase their firms and obtain a fair market value. As a result, owners can capitalize on their success and enjoy retirement with a nice-sized nest egg.
Preparing Your Firm for a Merger or Acquisition
A&E firms desiring to take the M&A path need to make sure they have their internal records clearly documented. This includes providing understandable project financial reports, presenting any risks a buyer should evaluate, and having records that are easily auditable. Lastly, and probably most importantly, firm leadership should communicate their intentions and the expected results of the merger or acquisition with their employees. Is your firm ready?