In my prior experience as a Controller of Architecture and Engineering (A&E) firms, I was often the "go-to" person for creating reports for PMs and Executives using Deltek Vision. Over time, I learned exactly which tab(s) the options were on for the various reports, which navigation menu item to choose to find the report base I needed, and even which color names were my favorites to use for the group headings. Now with Deltek Vantagepoint, report creation has been made even easier with a few excellent enhancements. So, with the musical the Sound of Music in mind, let's highlight the Deltek Vantagepoint report upgrades as "A few of my favorite things" …about reporting! Feel free to "sing" along.
Favorite Thing #1 - Organization of Reporting Menu
My first "favorite thing" may not be as pretty as "raindrops on roses" but it sure will save time! Unlike Deltek Vision, Vantagepoint has only one Reporting option on the Navigation menu. All the standard base reports are now found on one "Reports" tab within Reporting. Likewise, all Saved Global/Personal reports will be listed on one "Favorites" tab. Instead of navigating through a dozen + menu items to find the report needed, now simply search for the report by name on either tab or filter by the type of report if you choose.
For example: Don't scroll through the full list searching for the Time Analysis Report. Using the name of the report, start typing "time" in the search bar and "voila", the report will populate.

Just even knowing the type of report rather than the name of the report, it can be filtered based on report type and list just those reports. This filter is like navigating the reporting menu tree in Vision.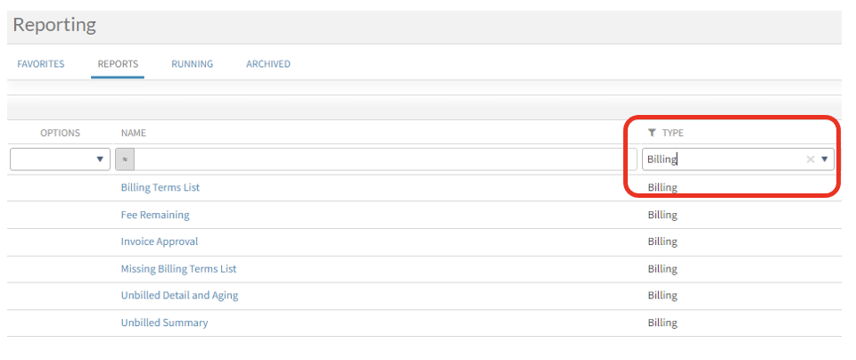 Favorite Thing #2 – No more than 4 Option Tabs!
Unlike the many "whiskers on kittens", there are no more than four tabs to review for reporting options. In Deltek Vision, some reports had two tabs, and some had up to seven! In Deltek Vantagepoint, at most there are only four tabs.

Columns & Groups: Always start by deciding how the report should be grouped/sorted and which columns are wanted on the report. Keep in mind the headings of the columns can still be changed just like as in Deltek Vision but now there is only one header, not a header line 1 and line 2.
Options: This tab contains all "other" options for the report selected. Time selections, activity options, budget options, financial detail options – if the report has the option, this is where to find them all! Having all the options consolidated to one tab makes it easier when creating a report as the user can simply skim through the options available from top to bottom. There is no need to go from tab to tab any longer!
Chart: Not all reports have the ability to utilize charts, so this tab is not always an option. However, if the report data makes sense to also be shown in a bar, pie or line chart, this is the tab to set it up.
Layout: This is the tab with the choice to override the report defaults for report layout (portrait vs landscape), paper size, font, borders, headings & footers. Advanced tip: If a user has special options for a report, consider adding the options selected as a note in the footer for a reference as needed.
Favorite Thing #3 – Easy Searching for Columns & Groups
My third "favorite thing" is how easy the column and group options can now be selected in Deltek Vantagepoint. This may seem basic but having one quick and easy selection area is as satisfying as some "crisp apple strudels" with my coffee.
Does the user want to know part or all of the name of the column or to add YTD data columns only? Does the user want all columns for hours? Use the filter! It will save time as there is no need to scroll through the long list of column options.
Favorite Thing #4 – Colors for Grouping & Headers, now Actual Colors not Words!!
Let's face it, sometimes data is boring and can be hard to read if there is too much of it on one page! Adding some color to grouping labels can help the eye focus in on a particular detail. The new color selections in groupings & headers are related to my "favorite thing" #2! Want a blue like "blue satin sashes"? In Deltek Vision, to figure out if that blue was cornflower blue or light steel blue, the user had to select the color by name, preview the report and decide if it was the color desired. Now the color selection actually shows the true color visually!

Another great place to use colors to brighten up a report is in the Column Heading. This option can be found on the "Layout" tab of reporting. Use a nice bright color to liven up what used to be a basic black & white report. Better yet… does the firm have an approved color palette? Find out the color codes for the firm's colors and type in the code of the color to use in reports. Now reports will match the company branding. The user doesn't have to be limited to the 140 colors shown in this grid. Here is a website that shows more color options: Color Hex Color Codes (color-hex.com). Select a favorite color or the company's brand color to liven up those reports!
Favorite Thing #5 – Select Report Options, Records and Save the Report

- A

ll from

O

ne Screen

!
My last "favorite thing" about Deltek Vantagepoint reporting reminds me of "brown paper packages tied up with strings". Deltek took three areas from Vision reporting and combined them to one page. In Deltek Vision, users had to go to one screen for Options, go back to the main reporting page and navigate to a second screen for the records selection, navigate again to the main reporting page and go to a third screen to save the favorite report. In Deltek Vantagepoint, all three of these reporting functions are executed from this main reporting screen!

Two more quick reporting tips… (1) don't miss that the report title can be changed directly from this screen as well! Simply click on "Project Earnings" and rename this report to whatever makes sense for the organization. (2) Users can also email the report directly from this main screen from the "Other Actions" options.
Enjoy the Enhancements of Deltek Vantagepoint
While Deltek Vantagepoint users cannot all sing with the voice of Julie Andrews in the Sound of Music, they can certainly benefit from this list of "my favorite things." In fact, users may discover more to add to this list! In the meantime, let these Deltek Vantagepoint enhancements make reporting a lot easier because like Maria said when feeling sad, "I simply remember my favorite things and then I don't feel so bad."
---
Click the image below to learn how to add the powerful, feature-rich ERP to your toolbox and get your team working on the same page of the same book.