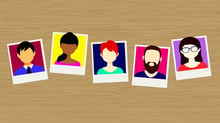 There have likely been times where you desired to get healthier and stronger. You cannot just wake up one day, eat well, exercise, and see the results of your efforts instantaneously. You must have the desire to change, recognize the benefits of doing so, keep your WHY at the top of your mind, and identify long-term goals. Just like in your personal life, lifestyle changes are necessary on the business front to see real success, and client relationship management (CRM) is a large part of making that happen.
Professional services firms offer services, and it is all about the knowledge and expertise of a firm's professionals and trust in the brand. The art of building relationships and earning trust takes time, thought, and coordination within your team. CRM tools keep track of these communications, and consistency is what builds the data. With this data, you can establish long-term goals that you strive to meet. The positive results from choosing to use an effective CRM make it worth your while to change your work lifestyle.
Accomplish More
The benefits of a personal healthier lifestyle may be having more energy, feeling more confident, and accomplishing goals that have felt distant. Likewise, for businesses, process and habit improvements offer benefits such as boosting productivity, increasing communication with clients, and crushing sales goals. Implementing a CRM helps you work more effectively as a team while adding productivity time back to your schedule. If CRM data is captured timely and correctly, it takes significantly less time to "research" what the latest communications and outcomes were with clients.
Think of employee-client interactions and the information that is gathered as a firm resource. Business resources are meant to be shared efficiently, and that information should be available when others need it. Furthermore, new information is constantly coming in and a CRM tool provides your teams a platform to document and share this information, keeping everyone informed.
Use the Technology at your Fingertips
As new information comes in from various sources, real-time data is crucial. This is achievable with the mobile capabilities of a strong CRM. Therefore, documenting information after each engagement brings consistency and a positive habit. With a firm-wide CRM, you can stay on top of your communications and proactively reach out to clients.
Additionally, as there are web-based apps to track exercise stats, sleep habits, and food intake, there are also apps that streamline business matters. All data from these apps, such as email, can be incorporated and captured into your firm CRM. While technology can help guide us, we are ultimately responsible for holding ourselves accountable for the improvements.
Use Accountability to Create Consistency
Just like having an accountability partner in an exercise or health program, employees should be accountable for keeping their colleagues informed. When we have dated action items as a CRM may show, the transparency should drive employees to stay on top of their tasks. However, there needs to be support and enforcement from all levels of leadership to make sure this happens. Consistency is crucial to success.
Get Over the Hurdle
According to the 40th Annual Deltek Clarity Architecture Engineering Industry Study, only 14% of firms planned to invest in marketing intel and CRM systems. Is your firm part of that 14%? CRMs have advanced greatly, and the capabilities of an effective CRM support and encourage accountability, teamwork, outreach, and relationships. After some time, your firm will not remember business without an efficient tool like a CRM. These positive habits will stick with the firm for years to come, just like a lifestyle change for a healthier you.