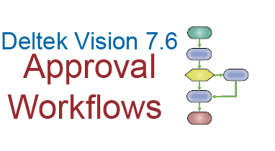 Deltek introduced approval workflows in Vision 7.4 for purchasing and inventory records. Since then, Vision clients have asked for more. Well Deltek listened and began adding approval workflows to each new version of Vision. Let's take a look at the benefits of approval workflows and what's been added to Vision 7.6.
Intro Into Approval Workflows
Since some readers might be new to approval workflows, let's review the functions of approval workflows in Vision:
Multi-tiered Approvals – Allows approval workflows to have the ability to assign one person or multiple people with approval responsibilities for a specific request.
Flexible Assignments – Instead of assigning the approval to a person, make the approval assignment to a specific role or function within the organization.
Reassignments – Quickly reassign an action to add additional approvers or reassign the approval assignment to another person.
Conditional Assignments – Allows for the use of a threshold for when an approval is required, such as a dollar amount for an expense.
Flexible Actions – Send and receive notifications of an approval request by email, a dashboard alert, or by a user-defined error message.
Workflow Failure Notifications – Workflows are smart! They will notify the approval administrator if a terminated employee or a role with no employees has been assigned approval responsibilities.
Additionally, these functions are the foundation for all future approvals in Vision. As a result, approvals are flexible so they can meet the unique requirements of different organizations.
Applications That Have Approval Workflows
In previous versions of Deltek Vision, several applications have gained the ability to utilize approval workflows. Here's the applications that received approval workflows in version 7.4:
Purchase Requisitions
Request for Price Quotes
Purchase Orders (PO's, Change Orders, and Releases)
Inventory Item Requests
In version 7.5, these applications gained approval workflow capabilities:
Absence Requests
AP Invoice Approvals
General Ledger Budgets
With the release of Vision 7.6, Deltek has added Expense Report and Expense Line approval workflows.
Expense Report and Expense Line Approval Workflows Overview
In the existing Vision Employee Expense Applications, users can easily create expense reports and easily add credit card expenses to the report using the Vision Credit Card feature. With the addition of approva workflowl capabilities to the Expense Report and Expense Line approvals, users are further able to embrace the power of Deltek Vision. Some benefits of enabling Expense Approval Workflows include:
Approval Workflows that are multi-step and based on specific parameters to align the approval process with your organization's operations.
Send approval requests to specific employees or roles within your organization.
Approve all lines of an expense report or just approve a specific line.
Setup notifications to alert people about the status of the approval process and let the approver know a request is pending.
Are you ready to enable Expense Report and Expense line approvals? Not sure, here are some things to think about.
Does your organization have a defined process for expense approvals?
Which roles and individuals need approval assignments?
What dollar amount should require an approval?
What steps are required to ensure employees follow Expense Report policies?
Now that Deltek has added approval workflows to the Employee Expense process in Vision 7.6, users now have more tools to streamline internal business processes. Find out about other new features in Vision 7.6 here! Additionally, let us know which improvements you want to see in the next version of Deltek Vision