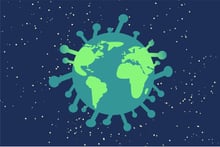 COVID-19 has impacted everyone's lives quite dramatically and suddenly. For many, working from home, also known as working virtually has become a way of life indefinitely. This new concept of full-time remote working presents unique challenges. Even more, for those of us who have worked at home for years are now dealing with distractions we were not previously exposed to such as sharing workspace with family members all the time. With COVID-19 introducing a plethora of daily hurdles to our once normal lives, here are some ideas to help you stay positive and make the most of this quarantine time.
Create a Workspace
The hardest adjustment people have had to make while sheltering in place or quarantining is keeping to a routine. With COVID-19 and the rapidly changing conditions created by the pandemic, daily routines have been upended overnight. It has been easy for both parents and kids to lose track of days and of time. Therefore, to maintain a disciplined routine, it is very important to create a workspace for yourself and for the others in your household. Whether it be the kids doing schoolwork from the kitchen table or everyone working from the dining room table, choose designated workspaces with designated hours. This will help keep you and your entire family focused on getting your daily work done.
Improve Your Professional Skills
Believe it or not, working from home during a quarantine can make you more productive. Think about it, you're not wasting time struggling with traffic and getting kids to sports. So, with this spare time, find free resources to help improve your professional skills. Here at Full Sail Partners, we offer whitepapers, webinars, and blogs like the one you're reading. Furthermore, Deltek and Entrinsik have similar resources that can be useful to you. Be assured that during this time of uncertainty, Full Sail Partners will continue to create and provide our content for your consumption.
Gain Academic Knowledge
Going beyond your professional skills, there are countless opportunities to increase your academic knowledge. For many, when we finish school and start a career, we quickly leave behind academia not related to our profession. Generally, this is a necessity based on our growing needs that are in line with our priorities, like families. However, there are always those courses we enjoyed as electives and wanted to take a deeper dive into, but we just couldn't seem to find the time.
Well, now is a perfect opportunity to revisit this as there are numerous resources available on the internet. Here are links to some example of free online academic resources:
Even better, if you're a parent now having to do at-home schooling on topics with which you're rusty, most or all these resources have you covered.
Stay Mindful
COVID-19 has created a health scare, but it is necessary for you and your family to find control in these unprecedented times. Staying mindful of the present is a good way to gain control back. In between work activities, take the time to go outside and reflect on the peacefulness of nature. You can even find short mindfulness videos on the internet to do as a family or on your own when you take a work break. Whatever means you choose, try to stay present and productive in each day and know that this will eventually pass.
Every Cloud Has a Silver Lining
While the current situation is challenging, the reality is that it is our new norm for the near future. In this time of COVID-19 quarantine, we all must focus on the positive rather than the negative. Identify workspaces and be productive, learn something new professionally and otherwise, and above all, establish routine and stay present. Good luck to everyone out there! We will get through this soon!