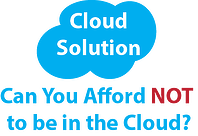 Just like Dorothy in the Land of Oz, we are all searching for the great and powerful wizard to handle our problems, like computing. Instead of the brave lion, the full-of-heart tin man, or the intelligent scarecrow, our companions to this all-powerful place are IT Consultants who lead us to today's version of the Land of Oz … the Cloud Solution.
What is a Cloud Solution?
First, let's talk about this land that, to many people, seems amorphous and far away – the Cloud Solution for your IT problems. The cloud is really a symbol for an ever available electronic network that relieves you of managing your IT infrastructure. To bring it closer to earth … the cloud is really a partnership where another company manages all of your IT needs including securely storing your computer data, handling all hardware and software needs, and allowing you continuous access to your computing.
The cloud takes the IT infrastructure burden off you
and allows you to focus your energies on what you do best.
Here's an example … let's say you're a small construction engineering firm. Your engineers can create CAD designs that are a thing of beauty. But managing an internal network, updating software and hardware, and troubleshooting issues are just not in their skill set. Furthermore, researching and buying all those computers and other technical devices is a massive non-revenue generating responsibility. You need someone to take care of all this – you need a Cloud Solution that will eliminate headaches, and provide benefits:
Reduce costs – managing your entire IT hardware and software structure and all labor with people whose first skill and interest is taking care of your computing.
Be disaster safe – with disasters like hurricanes and wildfires, it's nice to know that your data is housed in a facility specifically designed to protect the hardware and software from these types of occurrences. Is your building that safe?
Be green – these days, we're all trying to do our part in taking care of our planet; the less energy we use and the fewer old computers that end up in a landfill is a big part of that. Cloud computing manages this far more effectively than many businesses are designed to do.
But most importantly, allow secure access to your data from anywhere, at any time on any device.
Yes, literally. Access. Anywhere. Anytime. Anything.
What does a good IT Consultant do?
"Sounds good," you say, "But who will get me started?" That's where you work with an IT Consultant from Full Sail Partners. According to Forbes.com, "Be the Best Consultant Ever: 6 Things That Will Make You Great" (11/05/13), a successful consultant will:
Do exactly what they say they are going to do
Pay attention to details which produce error-free deliverables
Truly be the "expert"
Think critically through all possible solutions
Be resourceful
Probe effectively and listen critically
In short, a good IT Consultant is there for YOU.
So when we pulled back those drapes and learned the great and powerful Oz is, in fact, Full Sail Partners, all fears vanished. Full Sail offers the consulting expertise and a free webinar to further help solidify the benefits of cloud consulting. And, luckily, there is no need to click our heels three times to find that consultant – one click of a mouse and you're on your way.
And, yes, you can keep the ruby red slippers … you're welcome!