In the last 200 years we've developed a variety of methods for communicating with one another. We've taken the journey from individual letters delivered by horse to instant mass communication. How can things get any more social than that? Deltek Kona, that's how!
Being 'social' involves more than just communicating and working together. Merriam-Webster defines social as "relating to or involving activities in which people spend time talking to each other or doing enjoyable things with each other".
The key phrases "talking to" and "doing enjoyable things with" only seem to reference something outside of the workplace. In the 1980s, the focus was on output and productivity. In the decades that followed, we labored to attain the ever elusive 'work-life balance'. In the new millennium, we strive toward contributing fully in our work and personal lives without restrictions of time and space. We want to enjoy ALL of our life.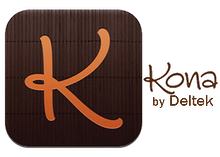 Deltek Kona, released in spring 2012, combines all that we know about working together with the best methods of communication. It presents that blend to us allowing us to talk to each other AND do enjoyable things with each other across our work and personal lives. Guided by the principles of confluence, immersion, accessibility, and digestibility; the innovators at Deltek Kona have found a way to leverage the best of all the communication tools developed in the past 50 centuries (not a typo: we still draw on walls to convey our thoughts) to help us interact in a more social and enjoyable way today.
How does Deltek Kona help us get more social?
Use Deltek Kona to Create a Hometown
Kona is organized around context specific spaces or groups. Each space is formed with a level of focus appropriate for its purpose. There are no limits to the number of spaces an individual can belong to or the number of members in any one space. Each space landing page is the "hometown" for the group allowing members to participate in and view interactions that are taking place. Over time, users begin to become acquainted with each other's concerns, thought processes, and involvements.
Enhancing Personal Interaction
Individual users may have more than one group in common across work and personal interests. Knowing more about what you have in common with others allows you to get more social with them as individuals. The ability to create and store one-on-one conversations with people in your Kona network allows users continuity and privacy even when time and distance are barriers to traditional communication methods.
There are times when we are having a conversation in a group but need to direct our comments to a particular person. Deltek Kona incorporates "@mention" functionality to expand the personal contact in the context specific discussion. Nothing encourages us to communicate more than feeling like we are being listened to and understood.
Eliminating Polarization
Deltek Kona was built to be free. Users can enhance their organizational experience with an upgraded account. Regardless of the type of account, the experience and interaction is the same. This removes the barriers of participation across all members of the group and continues the social experience as no one is barred from participation because they must pay. This allows us to use Kona for all sorts of purposes, from family reunions, to political organizations, to multi-firm business projects.
Deltek Kona further removes barriers by elimination of platform dependencies. The Kona software works the same on any operating system and internet browser. The accessibility extends to the mobile platform where users continue to get more social from wherever they are and whenever they want to.
Increasing Personal choice
One of the favored features of the Deltek Kona product is its flexibility with the individual users' need to digest information and connect on in his or her own time. From the moment one opens the Kona product, it is clear which items take priority. A user can access a conversation with 20 unviewed in-line comments and get a clear picture within minutes. This is the first step in creating an enjoyable social experience when working with a group.
Because the Kona team recognizes that email has its merits, they've enabled the individual to decide how much or little Kona activity is transferred to email. The possibilities to limit but not eliminate are almost endless for the individual user. Being able to choose which groups to get more social with enhances the interactions that are wanted.
With much of our productivity arising from collaborative efforts conducted across vast geographic spaces, we meet and interact with more people than ever. The Deltek Kona tool allows us to stay informed and control the inflow of information leading to a more relaxed experience. When we remove unnecessary stressors, we naturally take time to get more social and find common ground with those around us. Sign-up for Deltek Kona today and join the 21st Century's answer to communicating, socializing, and getting things done.