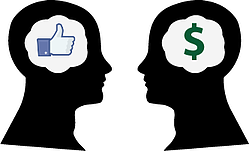 Marketing and finance often seem destined to clash. The common misconception is that marketing's sole purpose is to spend money, while finance does everything in their power to throw up hurdles to spending. Marketing focuses on building quality relationships and creating brand equity, while finance has an, admittedly sometimes myopic, focus on hard numbers and empirical evidence. Let's examine how we can help marketing better communicate with finance and bring these two opposite ends of the spectrum together!
Speaking the Language of Finance
We are all familiar with the saying 'it is better to give than receive': If marketing and finance applied this principle to their interactions the entire company would reap the benefit in the long run! Accounting can often be over protective of financial data and systems, and rightfully so – when things go wrong, everyone looks their way! Take on the responsibility of proving your marketing efforts in language finance can understand – data, not Facebook likes – and you will find that your finance department will be a lot more receptive to your efforts and requests.
Smart Tips for Creating a Better Conversation:
Put yourself in accounting's shoes and understand hesitancy | Understand that often times finance is not questioning the value of marketing, they are however questioning how to quantify the results to the effort/cost. Marketing is not a perfected science and your mere desire to track marketing ROI will show your finance department that you too have the company's bottom line in your best interests.
Establish desire to measure marketing ROI | The single biggest hurdle with communication is the illusion that it has taken place! Don't sit back and assume that your finance department is aware of your desire to be a metric-driven-results-producing marketer. Get the conversation started!
Think about data needed to do your job better | This can be a tough one! We suggest starting small and working your way up. Doing so will allow you to include finance in the discussions regarding your marketing planning, and help you better understand the value of the metrics you are tracking.
How to Start the Conversation
Need help getting the conversation started? Here are some of our favorite ways to open a two-way dialogue:
Retaining & Gaining Clients: "I'm looking to understand our total customer growth. Do we have a way to determine by percentage and revenue the amount of our work we've received is new vs. existing clients throughout the year?"
Pursuing the Right Client: "I'm looking at how we can be more strategic in our pursuit of clients. Would it be beneficial to advise you when I see we are pursuing more work with clients that we are having AR issues with?"
Forecasting and Backlog: "Can you help me understand what our break-even is and do we have a way to see what our current backlog is? I'd like to help make sure we have enough business coming in the pipeline for each market or division."
Effectiveness: "Can you help me better understand how I affect the bottom line? I want to develop metrics that help me understand the financial results from marketing's efforts and help me fine tune my approach."
We hope that you are able to apply these tips to start a better dialogue between your marketing and finance departments. Improving the synergy between these departments will result in marketing receiving more support and executive buy-in, while finance is able to capture the analytics and financial metrics they crave.
Ready to take your conversations to the next level? Check out this on-demand webinar to see how marketing and finance can team up for greater results!