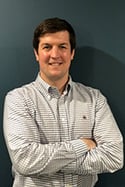 Full Sail Partners hired Senior Consultant, Chris Simei to head up their Blackbox Connector between Informer and Deltek Vision and Vantagepoint. Chris is known as a business intelligence (BI) expert in the Deltek ecosystem and will focus on expanding Full Sail Partners' BI capabilities including connecting with other solutions. His wealth of knowledge will help ensure Deltek clients maximize the value of their product and reimagine how they use their data to reach optimal efficiency.
Chris is always looking to help clients and leverage creative concepts to drive innovation. Additionally, Chris delivers automated solutions with a well-versed perspective, having been in the A&E industry for over a decade. His work has taken him across the United States, Australia, New Zealand, and the Middle East.
"The landscape of ERP data management is changing swiftly. I collaborate with clients and use Deltek solutions to help firms get to the next level. The solutions are endless and I'm excited to guide firms along their success journey," commented Chris Simei.
Professional services firms are starting to reap the benefits of business intelligence. However, the most effective analytics take some collaboration and preparation. In this role, Chris will help firms get the data they need to make key business decisions by using the Blackbox Connector to integrate Informer, or other business intelligence software, with their Deltek system. Informer is becoming the desired choice among the Deltek community because of its drill down capabilities, ease of use, and ability to combine other data sources. The Blackbox Connector team has made it easy for firms by providing pre-built datasets, visuals and dashboards to every user within the firm.
"Many firms are looking for ways to streamline their business intelligence data to stay on top of projects and business decisions. Bringing Chris on board allows Full Sail Partners to help more firms get connected with Informer and other solutions. Deltek is a robust, cohesive system, and it takes technical experience to integrate these systems correctly. After connecting the systems, firms can have confidence in their data and have an intuitive system at their fingertips," stated Scott Seal, Vice President of Consulting.
For more information, please email Full Sail Partners' Marketing Communications Department.