Starting with the obvious, all departments and roles at AE firms were directly impacted by the global pandemic. This is emphasized in each section of the 42nd Deltek AE Clarity Study. However, the Human Capital Management (HCM) segment highlights another challenge firms are facing – a multigenerational workforce.
Today, an AE firm's workforce can include members of up to four generations. This infusion of differing opinions about professionalism, work-life balance, and overall expectations of an employer has pushed many company leaders to shift their culture to embrace these differences. While some firms have accepted this multigenerational workforce, others have chosen to keep up their traditional methods – until now.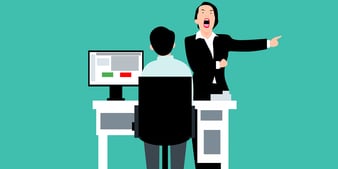 When the COVID-19 global pandemic struck, expectations of flexible schedules, more casual work environments, and telecommute options were thrust upon everyone without warning. Even those that were steadfastly against the idea of hybrid workers. Now, we are at the crossroads of two seemingly unrelated challenges that have a common solution, and the pros and cons of this evolving workforce dynamic are highlighted in the 42nd Deltek AE Clarity Study.
New Human Capital Management Challenges
Great workforce management requires consistency, which is everything that work, and life hasn't been since 2020. As a result, this imbalance has created a new leading challenge for AE firms in terms of HCM. According to the 42nd Deltek AE Clarity Study, succession and career development planning jumped to first place from third place in the previous study. Subsequently, performance management and employee engagement fell to second and third place.
On the surface, these challenges are expected in the given circumstances. Taking a deeper dive, learning and development programs ranked fourth overall and was considered a top three challenge for forty-eight percent of survey respondents. Looking below the surface, succession and career development planning, and learning and development programs are closely linked. Therefore, it's logical that the increase in ranking in both these challenges goes hand in hand.
Employee Turnover and Staffing Levels
Overall, survey respondents reported that employee turnover rate went down over one percent. This may seem like a small change, but it goes against trends documented in past surveys. In previous years, AE firms reported increases in employee turnover rates. Likely because of the strong economy. Since 2020, it has been likely that employees preferred to stay with their existing employer for stability instead of taking a leap of faith with a new company during uncertain times.
In terms of personnel growth over the previous year, firm respondents stated that they had an increase of 0.5% which is nearly 3% less than reported in the 41st Deltek Clarity Study. This is likely the result of hiring freezes during uncertain times. Additionally, thirty-three percent of firms reported having more open positions at the time of the survey and fifty percent had fewer open positions. Encouraging is the fact that forty-eight percent of respondents state the reason for open positions is solely because of firm growth.
Talent Acquisition Challenges
One of the least surprising findings of the 42nd Deltek AE Clarity Study is that the availability of good candidates in the marketplace once again ranked number one in terms of top talent acquisition challenges. The simple cause and effect assumption is to connect this finding to the decrease in employee turnover rates and other factors like uncertainty about the future economy. But what impact will the pandemic and a new hybrid workforce has on talent acquisition challenges.
For years, firms have competed for talent within their local geographies. However, the global pandemic has allowed firms to embrace their evolving workforce, and employee can be an effective member of the team whether they are at the office or at their home. When taking into consideration the changes created by the pandemic, the challenges of the past, such as matching qualified candidates to open positions and offering competitive compensation will likely become minute in comparison to the other challenges listed in the Clarity Study.
Focusing on Managing and Retaining Talent
Providing a clear career path with training goals and milestones helps keep employees engaged and ultimately retain talent. For AE firms, this strategy helps them plan for the future to make sure the firm can remain successful. Apparently, this is no secret. Respondents to the 42nd Deltek AE Clarity Study overwhelmingly ranked create or improve succession and career development planning as a top initiative. Closely followed by developing more formal career development programs. Being leading areas of opportunity for improvement, these initiatives and the others that are highlighted in the 42nd Deltek AE Clarity Study are things firms should evaluate closely.
Clarity for the Future
Reflecting back, it's impossible to avoid including the impacts of the global pandemic on businesses. For human resource professionals and AE firm leaders, they sure got the "short end of the stick" with having to adapt and quickly create policies to ensure business can continue as normal and employees are aware of the new expectations. Fortunately, the world is getting back to some sense of normality and those tasked with overseeing their firm's HCM strategy can get back focusing on hiring and retaining talent, and developing training and succession plans.