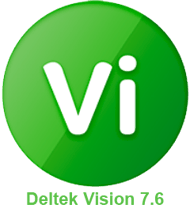 You asked and Deltek listened. There are a number of new and exciting updates and features in Vision Version 7.6. Let's see how Deltek Vision just got better!
Employee Expense Approval
In addition to Purchase Requisitions, Request for Price Quotes, Purchase Orders, Inventory Item Requests, Absence Requests, AP Invoice Approvals and General Ledger Budgets, Employee Expense Reports are now included in Approval Work Flows. Approval workflows are user designed for specific applications in Vision. All lines of the expense report can be set up for approval and/or just specific line items in a given report can be set up for approval. The workflow defines the approval process, approvers, allowable actions and alerts for a record.
Purchasing
Vendor Response enhancements were made in purchasing. As a result, Vision can be configured with up to 10 user-defined labels. When you are in RFQ or Purchase Requisition by line item, you can select from one of the user-defined labels and apply a response to that label.
For RFQ's and purchase requisitions, you have the option to Show Suggested Vendors and Show Vendor Responses. The new Bid Evaluation report gives you the selected vendors for comparison purposes.
Also new in purchasing is a new Comments tab in Purchases Orders. The comments are for internal use only. Comments can be added even after the PO has been finalized and printed. These notes can be included on the Purchase Order Detail Report.
A PO column has been added to Vendor Review. Once you select a voucher, you can see the PO Number column on the Voucher Line Items grid. You can drill down on the PO number to display the PO and add notes if you choose to.
Benefit Accrual
Deltek didn't forget about Benefit Accruals enhancements. Sick and vacation time can now be calculated on hours worked. This enhancement is in response to states that require firms to earn 1 hour of sick time for each 30 hours worked.
Billing
Deltek added a Retainer Ledger Report. This new report displays complete details associated with retainers by either project and/or by client. General options for this report can be set to display retainer amounts for specific time frames, i.e. last year, first quarter.
Invoices and the invoice backup report can now display the Labor Category description, Title, Labor Code description and timesheet detail.
AR Statements just got a little more personal. Similar to invoice templates created in the Invoice Template Editor, you can now add your firm's logo to AR Statements. Margins can be defined for information printed in the heading and the Project Long Name can now be used.
Deltek also streamlined the Invoice Approval process. In the past, invoices submitted for approval would have to be un-submitted one invoice at a time. In version 7.6, invoices can now be un-submitted in batch.
Billing Invoices and Backup Reports are more flexible. On the Invoice and billing backup reports, the employee name can now be replaced with the Labor Category Description, Labor Code Description or Title while displaying the date and comments. These selections have been added to the Labor tab and the Billing Backup tab in Billing Terms.
Also new in Billing is a feature that allows you to show Fee Total and Add-on on the Final and Draft Invoice Backup Report. This selection is also available on the Billing Backup tab in Billing Terms.
Another useful feature in billing is the ability to show expenses in the billing backup report on draft invoices. The selection for this option has been added to the Billing Backup tab in Billing Terms.
Breakdown compensation in User Defined Revenue Methods. Currently in Deltek Vision, Direct Labor, Direct Expenses, Direct Consultant, Reimbursable Expense and Reimbursable Consultant can break out by compensation. In version 7.6, there are now fields available for the compensation breakout to be used in the User Defined Revenue Methods.
Credit Cards
In Credit Card Review, you can now see the Expense Report, Voucher and Chart of Account Number in the Credit Card Transactions grid. You can also perform a search by Expense Report and/or Voucher.
The User Defined Fields that are created in credit card configuration can also can also be displayed on the Credit Card Review, Credit Card Transactions tab and the Credit Card Statement Reconciliation, and the Credit Card Charges tab.
In version 7.6, you can now add employee paid credit cards. Charges paid by the employee can be marked as "Add to Expense Report" so that the employee will be reimbursed. Charges can also be marked as personal. Personal charges will not be included on the expense report.
There is also a new credit card mapping available in credit card configuration that will map the description of the credit card statement to the employee's expense report.
Info Center Attachments
The Info Centers have a new tab called "Attachments". Instead of entering a link in the Info Centers referencing the path where documents are stored, you can now load an actual image of the document. Info Center Attachments use the same technology as the Transaction Document Management feature.
Once uploaded, documents can be viewed by simply clicking on the view button on the attachments tab of the info center record.
Are You Excited about Deltek Vision 7.6?
Deltek Vision continues to improve with every new version, and with these enhancements, lives are made easier and firms are able make smarter decisions. What enhancements can help you and your firm? Contact us and let us know!