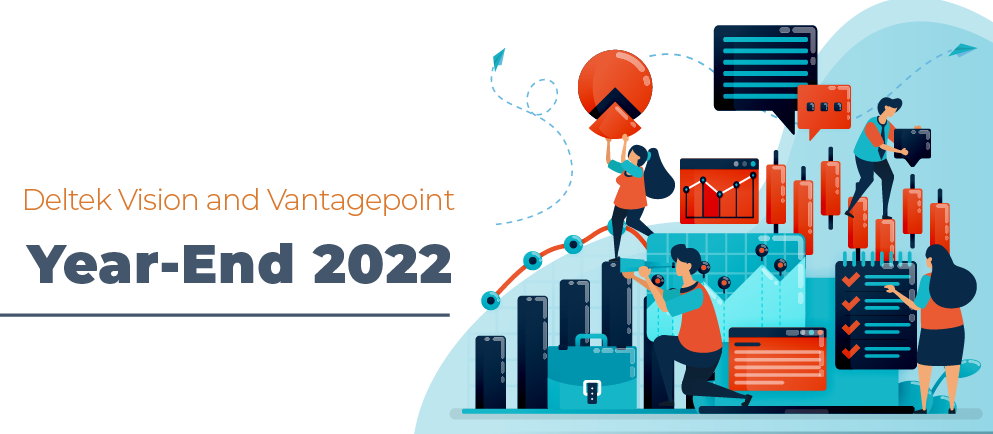 Year-end is the final accounting process to close "the books" at the end of each year. With 2023 just around the corner, it is never too early to plan for your year-end close. Planning and organization on your part can make the year-end process less challenging for the entire accounting staff.
Take the Time to Document and Get Organized
As always, you should take the time to document your year-end procedures. Not only the tasks performed in Deltek Vantagepoint and Vision, but all accounting tasks you perform should be documented so that you have a comprehensive guide that you can refer to every year. It is also vital that you create an accounting calendar.
The accounting calendar is not just for year-end, but for month-end and quarter-end tasks as well. This calendar is a schedule of anticipated dates for financial activities. You should also develop a year-end checklist to make sure you don't miss anything. One other tip to make this process go smoothly is to make sure that you are performing your month end reconciliations on a timely basis.
Common Year-End Tasks
Some of the more common year-end tasks for most companies are:
Reconcile All Cash Accounts

-

Verify all transactions have been posted into Deltek Vantagepoint/Vision to ensure your general ledger balances match your bank statements. Make adjustments as required.

Credit Card Reconciliations –

In order to ensure all credit card transactions are captured, make sure all expense reports are entered and posted.

File Reconciliation Report –

This report should be run at month-end and at year-end. This report identifies discrepancies between the GL and the subledger reports.
Final Invoicing

– Process all client invoices for the fiscal year.

Review Outstanding

Accounts Receivables

- Follow up with clients who have outstanding accounts receivable beyond 30 days. Send past due statements and/or simply give them a call. Enter the results of your collection efforts in the comments section of Vision Invoice Review. Year-end is an excellent time to collect your outstanding receivables.

If you determine there is uncollectable AR, be sure to write those invoices off.

Review Unbilled Detail

- Time and expense transactions that cannot be invoiced to clients should be written off at this time.

Fixed Assets

– Fixed Assets

are larger purchases that are made throughout the year (i.e., equipment, automobiles, furniture, computers, etc.). Check to see if all fixed assets reported on the balance sheet are still owned. If not, record the sale or disposal of these fixed assets. Verify the depreciation on your fixed assets as well. Then make any necessary adjustments.

Employee Expenses and Accounts Payable

-

Verify that all accounts payable vouchers have been recorded in Deltek Vision/Vantagepoint. Make your 401(k), SEP IRA, and Simple IRA contributions, if you have not done so. Try and pay all your vendors and employee expense reports by year-end.
Notes Payable

-

Verify notes payable (i.e., loans) amounts on your balance sheet match the statements from your lenders. Then make adjustments if necessary.

1099 Forms

– Order 1099 forms.

Make sure all W-9 forms from your vendors and/or contractors that are paid $600 or more throughout the year are on file in the Firms Hub in Vantagepoint or the Vendor Info Center. Don't forget 1099s should be mailed by January 31st.

W-2s

– Order W-2 forms if you run payroll in Vantagepoint/Vision. W-2s should be mailed by January 31

st

.

Budget for Next Year

- Create your GL budget for the new year.
Be Prepared to Close Out the Year
In Deltek Vantagepoint and Vision, opening the 1st period of your fiscal year also opens the new fiscal year. Depending on your security rights, you can still process in the prior fiscal year if needed.
There are several initialization utilities that need to be performed. For example, Open New Period (fiscal year), Open New Benefit Year, 1099 Initialization and Open a New W-2 Quarter/year if you are using the payroll module. Deltek Vantagepoint and Vision will generate a posting log for the initialization utilities. If your Vantagepoint or Vision database is configured for Multicompany, the initialization utilities need to be run in each company. The only exception is the Open New Period utility, which opens for all companies at once.
Deltek will issue a Year-End update at the end of December containing tax updates for payroll users. Also, be on the lookout for Deltek's Vision and Vantagepoint Year-End guide for more detailed information on year-end closing.