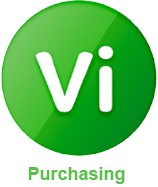 With built-in approvals and workflows, the Purchasing module in Deltek Vision safeguards against inaccurate or inefficient purchases in a paperless environment. Whether simple or complex, a company's entire requisition, purchasing and receiving cycle can be run by Deltek Vision Purchasing while maintaining complete integration with the Financial Accounting, Project Management, and Resource Planning Vision modules. Thanks to the built-in workflows and approval processes, all purchases are accurately tracked using the Purchasing module.
See What Deltek Vision Purchasing Can Do for You
Here are some key features of the Deltek Vision Purchasing module:
Security - Employee access is defined by management controls limiting access to each requisition stage during the purchase cycle and allowing the company to maintain a secure purchasing environment
Inventory Insight - Cost by location and inventory on hand can be tracked and cost automatically assigned to the projects
Approvals - Automatic notifications from Vision sent to authorized employees when a purchase request is submitted making the approval process quick and streamlined
Integration - Inventory information can be shared with other Deltek Vision modules, such as project control, ledger, and financial reporting, resulting in improved data accuracy of projects, accounting, planning and budgeting
Currency Management - Vision Purchasing can also make use of the Vision Multi-Currency module allowing all purchasing activities to be conducted in multiple global currencies
Gain Control of Your Purchasing Process
Manage the complete purchasing cycle online in a paperless environment offering browser-based requisitions, purchase orders, RFQs and receiving. Highlights include:
Quickly generated price quotes and requisitions
Numerous purchasing-related reports
Support for standard, blanket and service purchase orders and tracking change orders
Purchase orders created from quotes or requisitions or those previously entered
Automated requisitioning, including employee-created requisitions and online approvals
A complete receiving function, including support for partial receipts and backorders
The Advantages of Using Deltek Vision Purchasing
The Purchasing module of Deltek Vision allows project-based firms to manage the purchasing cycle, from RFQs to receiving and voucher entry. This paperless purchasing environment is secure due to the management defined user access and is easily maintained. Full integration with other Vision modules such as Accounting, Project Reporting, Billing, and Project Planning provides data consistency and communication throughout all parts of Vision. Finally, accurate purchasing reports are guaranteed using Deltek Vision Purchasing.