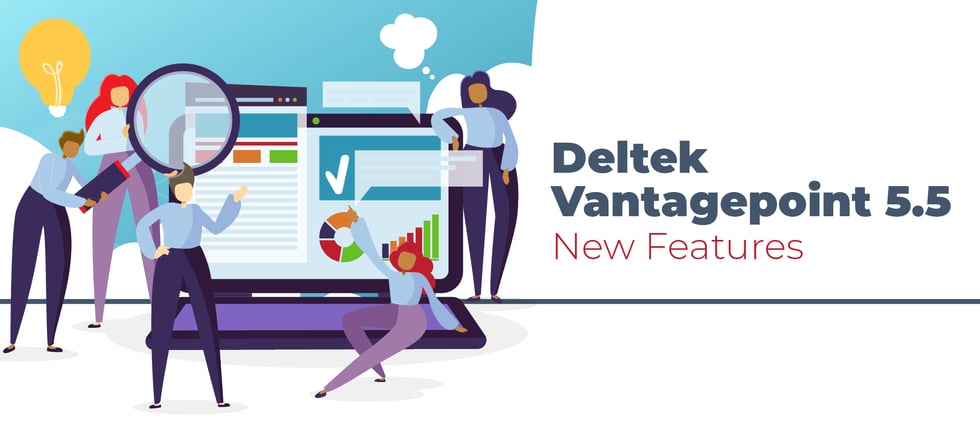 The new features in Deltek Vantagepoint 5.5 enhance usability, increase personalization for individual users and streamline project management and accounting workflows. It's easier than ever for professional services firms to access the right information and complete common tasks quickly. Here's an overview of what's new.
Schedule Dependencies
Users with the Resource Planning Module can create dependencies in the Gantt chart and manage a project's critical path. Project managers can quickly visualize and modify the project schedule, work breakdown structure elements and the relationship between those elements. When an update is made at one level, all of the dependent levels are automatically updated.
Dependencies are also accessible in the Project Planning report. Users can view information about dependency relationships between work breakdown structure elements, projects and associated labor codes.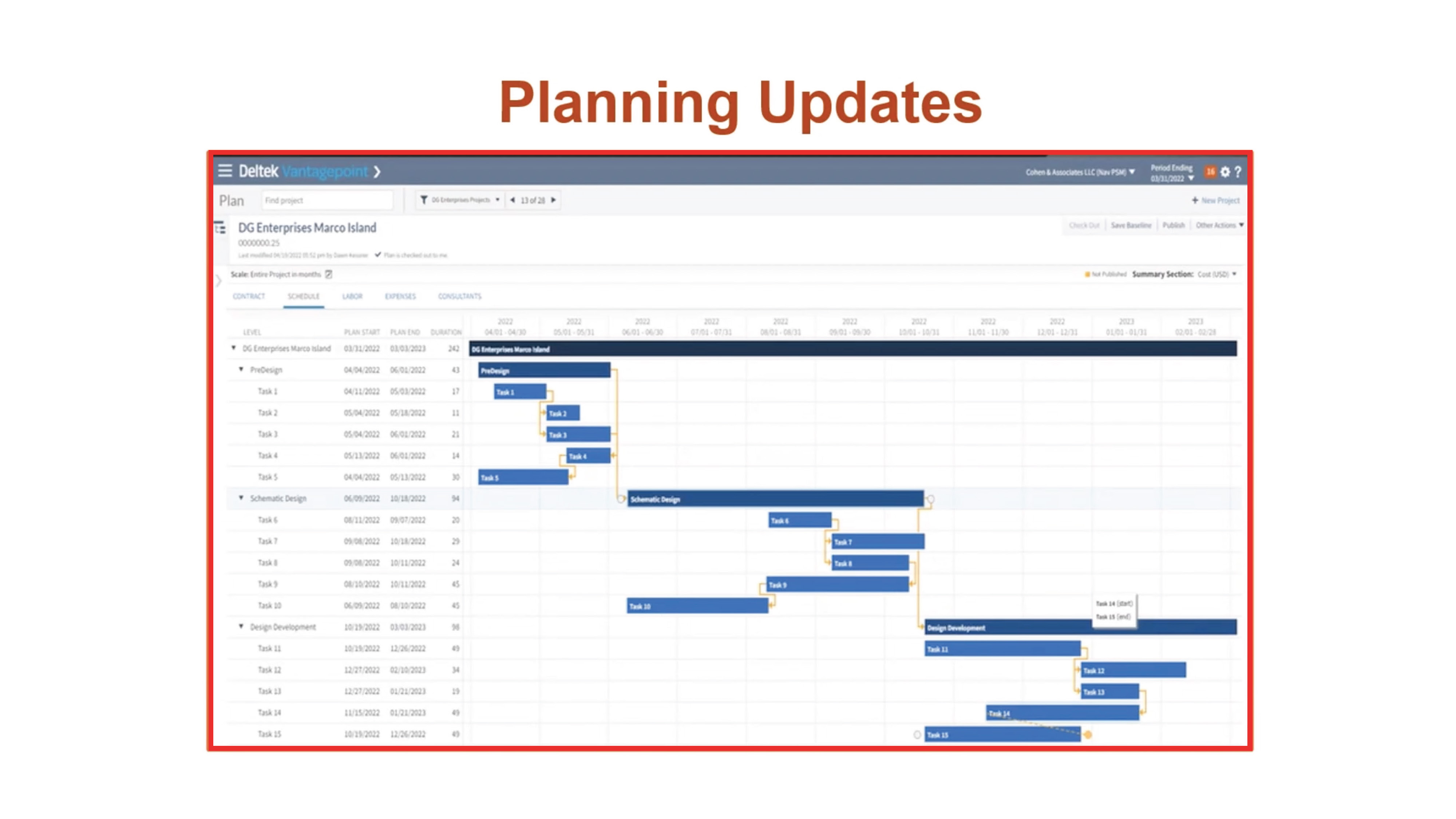 Drill-Down Paths
Help users access the right information quickly with drill-down paths. Users can determine which information is shown when they drill down into key summary metrics on a chart or table. For example, when a user clicks on a column displaying outstanding accounts receivable data, Deltek Vantagepoint can be configured to show them a dashpart with AR invoice detail.

Personal Dashboards
Users can now create their own personalized dashboards without engaging an administrator or manager. This added flexibility will help expand adoption and free up administrator time since users can customize more of their experience with Deltek Vantagepoint.
Update Percent Complete from the Dashboard
With Deltek Vantagepoint 5.5, project managers can easily manage percent complete with fewer clicks, ultimately improving reporting and billing accuracy. There are new columns in the project dashpart base for Weighted Percent Complete and Weighted Percent Complete Cost. Users can see and modify the percentage of completion per project billing or cost amount right from the dashboard.
S
treamlined Purchasing
Deltek Vantagepoint 5.5 enables staff to perform purchase requisitions and process approvals within any browser. Purchasing Requisitions, Purchase Orders, Items and Items Master are now accessible in the navigation pane of the browser application.

Other Purchasing Updates
Additional purchasing updates in Deltek Vantagepoint 5.5 include:
New layout for suggested vendors

Ability to add a vendor on the fly

Ability to attach documents of any status

Ability to view purchasing reports

Redesigned interface for the purchase requisition form
Accounting Updates
Deltek Vantagepoint 5.5 offers several new features that streamline accounting processes. Users can now post cash receipts that were created in bank reconciliation. This option is available for those that have rights granted to their role in the Accounting tab from Settings >Security> Role. The Transaction Center Approval option must also be set to "No" in Settings and Accounting Transactions.

Other Accounting Updates
The other accounting updates in Deltek Vantagepoint 5.5 include:
Expanded reporting in timesheets and billing

Print capability for Billing Category Rate Table reports

New overtime premium calculation that uses the cost rate in the Billing Labor Override Table instead of the Cost Rate in the Employee Hub for the employee
Email Templates
To help support digital payment processes, Deltek Vantagepoint 5.5 allows users to use email templates when sending electronic payment remittances by email. Templates can be configured to reuse standard information, such as regular text or database fields. Email templates are available in the Vendor Payments, Employee Payments and Payroll Payments applications. Users can save templates for personal use, for all users with the same role, or for all users within the firm.

Approval Center Updates
Users can restart approvals for timesheets and expense reports. This process removes all approved history and comments that are associated with the record and begins the process from the first step, no matter where the record is in the approval process.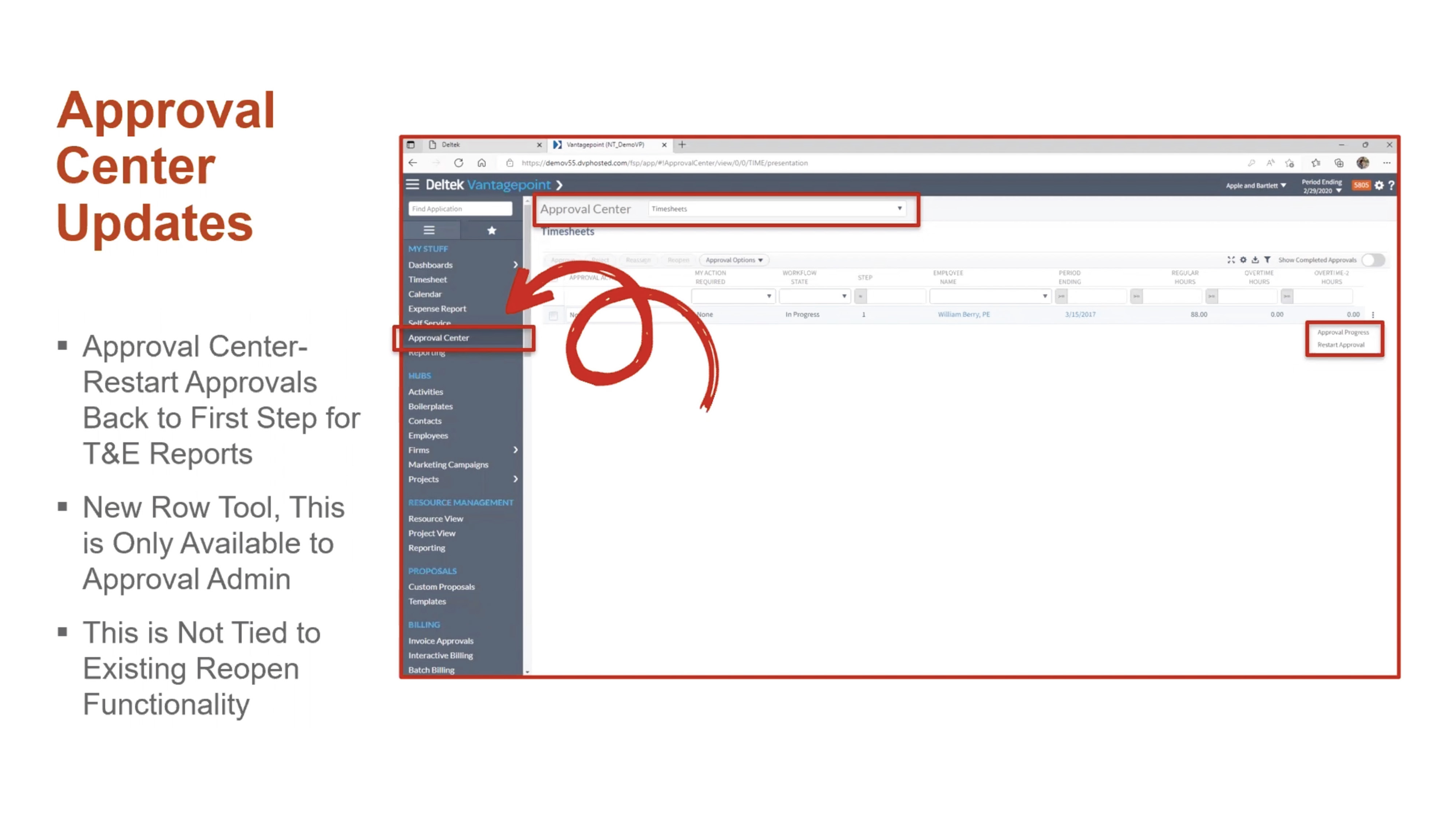 General Usability Updates
Deltek Vantagepoint 5.5 also comes with a number of usability updates:
See notifications immediately instead of every five minutes with real-time alerts.

See all users viewing a record.

Set favorites in navigation to find commonly viewed applications with ease.

Set minimum/maximum and default values for standard numeric fields.

Use predefined searches within Advanced Search.

Print timesheet reports from the Floor Check dialogue box.

Access Labor Planning videos in Online Help.
Learn More About the New Features in Deltek Vantagepoint 5.5
This is just a high-level overview of the many new features in Vantagepoint 5.5. To learn more about what Vantagepoint has to offer, watch What's New in Deltek Vantagepoint 5.5 on demand.