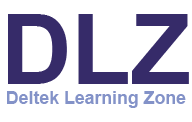 If you're a Deltek user, you know how robust the products are. As such, it can be a daunting task to learn how to use all the capabilities that Deltek products offer. Well, it doesn't have to be as overwhelming as you would think. The Deltek Learning Zone (DLZ) can help Deltek users get the most out of their Deltek product.
What is the Deltek Learning Zone?
The DLZ is a one-stop-shop that provides Deltek users with opportunities to learn from experts about Deltek products. More specifically, the DLZ contains numerous flexible educational options that allow you to learn at your own pace and in your own learning style. There are virtual live classes, self-paced learning classes, support videos, workflow and process infographics, as well as quick reference guides. Even more, Deltek has added a new hands-on training lab that allows Deltek users to practice in a test database.
What Are the Benefits of the Deltek Learning Zone?
There are a variety of benefits to using the DLZ:
Offers a user-friendly interface that allows users to minimize clicks to launch an online learning platform which is in a secure environment and tracks your progress automatically.
Provides an extensive content library that offers users a comprehensive collection of current content created by the people who design and build Deltek products.
Allows Deltek users 24/7 access to learn in their preferred style at their convenience using online training techniques.
Earns Deltek solution certifications proving you have mastered a Deltek product.
Maximize Your Deltek Investment
Start maximizing your firm's investment in Deltek products with the DLZ. Using the DLZ, you too can become a Deltek expert and increase your ability to more effectively use Deltek products. Additionally, as new Deltek products are brought to bear like Vantagepoint, resources will be made available in the DLZ so there is no hiatus in learning. Let's get learning!