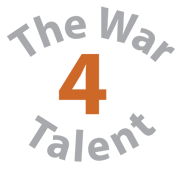 The war for talent acquisition has experienced a major shift in recent years. Historically, the employer held all of the power and candidates vied for the opportunity to prove their worth to the employer. However, in recent years, this dynamic has changed. Human Resources leaders and executives around the globe are faced with both talent shortages and a lack of candidates who possess the required skills to fill critical roles. Whether we like it or not, we are now operating in a candidate-led hiring market.
In a world where demand exceeds supply, we must manage the war for talent. HR must learn how to fight and win this desirable talent through innovative strategies to attract, recruit and retain the skill sets that our businesses require. It's time to refocus, to get creative and analytical, and to win this war.
Four Proven Strategies to Win the War for Talent
1. Build a Better Brand
Branding is typically thought of as a marketing function. However, what happens when companies apply the same branding principles to their recruiting tactics? It is simple, these companies effectively manage the market perception of what it is like to work for their organizations.
Successful firms stay aware of the perceived image that current and past employees have about their employment experience. Making sure the perceived image is on target involves evaluating specific details such as the company culture, employee benefits and work environment.
Building a strong and strategic employment brand will:
Create a sense of excitement about working for your company
Highlight the company mission and product/service offerings
Provide clear and compelling reasons to work for your company
Evoke feelings of attaining prestige and professional reward with your company
A strategic approach to employer branding requires a non-partisan examination of how your company attracts, engages and retains talent. It would be beneficial to undertake an employer brand audit. The results will hopefully inspire your leaders to invest time and effort into building a brand strategy to expand your talent recruitment pool.
2. Refine Your Candidate Experience
Successful companies go above and beyond to create a great candidate experience during the talent acquisition process. Human Resources and Marketing can team up to create this great candidate experience by focusing on these tactics:
Improve Your Application Process

– When is the last time you reviewed your company's application process? Most application forms are unnecessarily cumbersome and lead to a large portion of candidates not completing the process because of the time commitment involved. You can improve your candidate experience by keeping your application process to a minimum while meeting all of the firm's essential requirements.

Write More Compelling Job Advertisements

– A marketing mindset can help improve one of the first touch points with a potential candidate, the job advertisement. When writing, focus on the job description and opportunity rather than stringing together a list of requirements and qualifications. The job description should be intriguing in order to elicit interest and make candidates want to take the next step in the recruitment process.
During the talent acquisition process, both Human Resources and Marketing should work together to emphasize the advantages of working for your company – the great company culture, the reasons your company is a great place to work and the benefits. Using these measures will ensure that those with the right cultural fit have a great candidate experience during recruitment.
3. Create a Culture of Developing Internal Talent
The offer of learning and development is vital for attracting new talent. So why don't firms spend more time providing learning and development opportunities for their own internal talent? Current personnel can fill employment gaps fast if they are given the chance to pursue another direction in the firm. All internal staff should be given opportunities to learn new skills and develop alternate career paths within the firm. By providing development options to internal staff, the firm will have better longevity with its personnel and keep the skill sets internal.
4. Collect the Right Data to Support Talent Development
Relevant data is crucial to business leaders. Our financial metrics, KPIs and future growth reports are all dependent upon having access to quality data. Maintaining information on talent recruitment and retention are no different, and Human Resources Information Systems make this critical employee data much more accessible.
Just like the other areas of our businesses, we must first understand how to capture accurate information and then how to use this data within the context of our businesses. Before we concentrate on capturing this information, we must assess the accuracy of the data itself as well as find better ways of presenting the data.
Firms that remain competitive in the war for talent are able to contextually embed talent-related data within their business systems. For example, these firms are able to link their staff's professional development and performance activities to project management and customer service goals and metrics. This data allows company leaders to see real results regarding talent development.
Learn More About the War for Talent
Want to learn more about staying competitive in the modern war for talent? Sign up for our upcoming webinar to learn how your firm can better attract and retain millennial talent for your professional services firm.