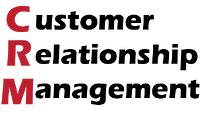 What does CRM Mean? CRM (Customer Relationship Management) is a solution that enables your firm to cultivate relationships and gain valuable insight in to marketing efforts. An integrated CRM solution brings together data from all data sources within an organization to provide a holistic real-time view of each customer or campaign. This real-time knowledge provides your team with the metrics and data needed to make informed decisions in a quick, yet calculated manner.
What Does CRM Mean for My Firm
A CRM system is truly something that each member of your team can benefit from. Examples of the benefits a CRM solution provides include:
Track client contact information | No need for the use of virtual cards or digging through outlook to find email signatures, a CRM allows your entire firm to store valuable customer information in one location.
Monitor marketing campaigns and efforts | What good are your marketing efforts if you cannot track the results? Track the effectiveness of your efforts and campaigns to help better refine your message and target audience.
Review past engagements | Utilize dashboards to easily track which messages, campaigns, and leads resulted in the highest wins.
Access customer (or lead!) information, on the go | Never get left out in the cold again! Gain access to your customer information on the go! Readily available intelligence allows your business development staff to go out and produce, and track, results.
What does CRM mean for your SMB, and how can you use it to grow stronger? The answer is simple; a CRM solution means that as your business grows, and the associated contacts and connections grow with it, you have the ability to manage a myriad of relationships across your entire firm. Clients are the lifeblood of any professional services firm, and without a proper CRM solution in place, you are essentially ignoring an open wound. So how can your firm use CRM to manage an opportunity from concept to completion? Simple:
Pipeline and Cash-flow forecasting

| Avoid rough patches and dry spouts by becoming intimately familiar with your pipeline of potential new business, and the value of your current projects.

Track progress on current sales opportunities, review historical information on past opportunities

| When speaking to a client or prospect, easily log details about the conversation for later follow-up. Tracking detailed information about interactions can allow you to win future work, based on often overlooked past experiences.

Create milestones for each step of the project, and specify a target completion date

| Tasks can be created and associated with each milestone within the project, so you have more granular control of what needs to be done, by whom, when.
Comprehensive reporting allows deeper insight | Setup your marketing goals within your CRM and track status and progress quickly and easily.
It is important to not only track valuable customer data, but to do so in a way that promotes sharing amongst your team. Promote growth and sharing and consider taking your customer data in to the cloud with an all-in-one CRM solution that consolidates all of your information in to an easy to access system. Stop wasting valuable customer insights and information, and start impressing customers with your deep firm-wide knowledge about each relationship.
So next time someone asks you 'what does CRM mean', you can tell them, "CRM means winning more work!"