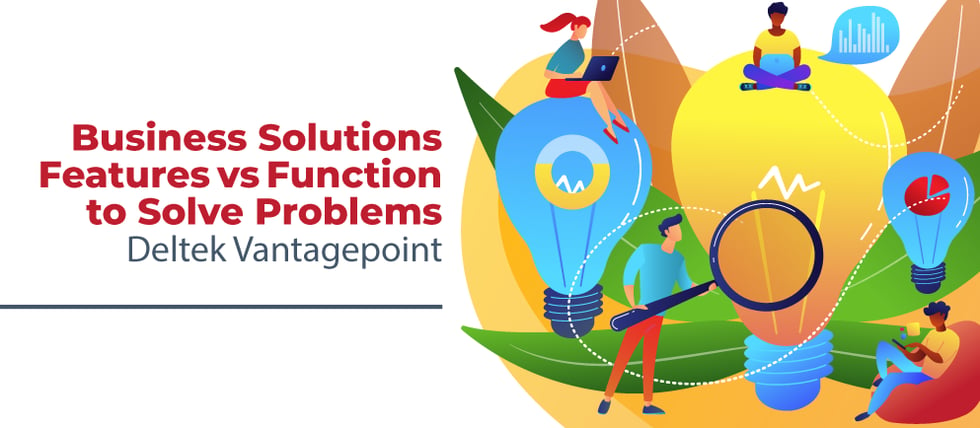 This is the sort of adversarial match that goes on too often every day for professional services firms. Buyers are overwhelmed by the sheer number of features when they watch a software demo. What is often forgotten, though, is that elephant in the room – the function of the software and how the product solves your business problems. 
Differences Between Features and Functions
But first, what's the difference between features and functions? Features are all the cool things software can do. While functions are all the cool things software can do…FOR YOU!
A solid ERP should support your professional services firm's business processes. You should not need to change your business processes; the technology should be there to strengthen your processes.
Usual Process for Seeking New Technology
Let's check out what often occurs as a professional services firm seeks out solutions to its business issues:
1. Deciding the Need
Here is usually how it goes.  A firm feels business pains – growing pains, direction, or market pains, etc. The leaders decide that new software will solve their problems and set about contacting vendors to see what their software will do. What is sometimes not communicated, though, is exactly what the problems are. Sometimes the leaders keep their needs/want to themselves preferring instead to see what the sales rep has to say, or sometimes they simply don't know exactly what the problem is or how to solve it.  
2. Feature Overwhelm
The eager sales rep arrives and starts working with the firm trying to understand the business issues, however, there remain the previously mentioned miscommunications regarding the business issues that need to be solved. So, the sales rep, having confidence in the quality of the product to solve a myriad of issues, launches a demo campaign perfectly designed and choreographed to show every remarkable thing the software does. It works - the firm is awestruck by all the impressive features, but will they solve the business problems?
3. Selecting the Solution
After looking at several vendors' presentations and perhaps even some RFP responses, the firm gathers, compares notes, and ultimately chooses the most appealing and financially comfortable solution. 
I'm sure, as a savvy member of our business community, you spotted the increasing snowball of issues that all come down to one basic, yet seemingly elusive, concept – the lack of clear definition, well-defined communication, and effective partnering with the vendor on the business issue(s) itself. 
Solving the Business Issue...the Function
Now, let's replay that same first scenario with a significant tweak to the beginning. The professional services firm is realizing some sort of business pain: current market/direction pains or future growth and development pains, disparate and inefficient processes, and lack of relational data for business metrics. Key firm members still convene to try to clearly identify what the issues are.  
However – and here's where it gets exciting – they reach out to a preferred vendor who, together  with the key firm members:
Clarify the business issues.

Develop a plan to solve them.
And only then do they …
Acquire

 

the right software solution.
Notice how the features weren't even mentioned yet? Sure, it's important to have cool things that your software business solution does which make everyday work life easier or more interesting. And yes, it's great to have hotkeys, a special GUI (graphical user interface) on pages, neat buttons, and clicks. But, in too many instances, those features are there mostly to sell but not to solve. They are frosting, gravy, or special sauce – yummy to see and eat, but without solid nutrients, are not satisfying the functional need. 
And what's more, those "bling" features almost always end up costing far more than going with what may seem like an initially expensive business solution. The cliché, "you get what you pay for," is very true in the software industry. Going with a less expensive solution can sometimes cost more in the long run, because if you haven't solved your business issue, you end up with voluminous customization costs or just more disparate systems. 
Partnering with Firm and Vendor Garners Results
At some point in the future after choosing based solely on price, bells, and whistles, you will likely need to cut your losses and just go with a vendor who will work with you to solve your business problems. It's the partnering of a professional services firm and vendor which garners the real result.
In the Forbes.com article, "To Increase Revenue Stop Selling" former contributor, Mike Myatt, states that organizations want to be treated like partners and not a software sales targets. Working with its vendor is the only way a successful solution will be realized resulting in a long-standing, productive business relationship. In the article, he says, "Engage me, communicate with me, add value to my business, solve my problems, create opportunity for me, educate me, inform me, but don't try and sell me – it won't work."
The article makes you think about it - do you establish trust by profiling and targeting prospects, or by attempting to understand the needs of a potential client? This is much more than a semantical argument – it's a philosophical shift in thinking, and a practical shift in acting. Stop selling and start serving. 
To put this in terms for your professional services firm, stop buying and start receiving this service. I'll go even further and suggest an early warning sign…if your vendor doesn't keep the door open that its software may not be a fit until an in-depth discovery is done, and all stakeholders are aligned, be wary. A solid partnership will be cognizant of the fact that an install that isn't actually solving problems is a lose-lose situation.
Finding the Wonderful Consultants Who Care
So where are these wonderful consultants who care and want to partner with your professional services firm to solve your business issues? They're out there all right. Yes, they're tougher to identify among all those throwing the title around on their business cards or in their lingo. 
Here are 5 tips to help you find the right business solution partner. You're looking for consultants who:
Talk more about you and less about themselves and their product features.
Question and then listen.
Work with you and don't sell to you.
Take the time to build trust and mutual respect.
Provide solutions that function for your firm instead of features that "could" work.
Partner Up to Navigate Features vs. Functionality
Interested in learning more about finding a business solutions partner to help your firm operate better? While you're at it, get rid of those boxing gloves. You won't need them now that you can win the match – because you know how to make the right choice between features vs. functionality in selecting your next business software solution.