Here in the United States, our sports zealots perform crazy antics like going shirtless in freezing weather or painting their faces in support of their teams. But it's more than the individual antics; the real difference is in the scale of extremism that soccer fans exhibit – a literal global exuberance all in support of their beloved sport. But wait, isn't this an article on ERP Consulting?
Well, believe it or not, soccer and ERP consulting have quite a lot in common:
They both strive to achieve a very specific GOAL.
They require coordination among the various efforts of serious talent to make it all happen.
True fans are enthusiastic about the team winning.
Breaking it down: Are Soccer and ERP Consulting that Similar?
ERP
The original Enterprise Resource Planning (ERP) solutions, introduced in the 1990s, were primarily designed for and used by manufacturers. Today, ERP solutions have evolved and serve as a tool to manage the project life cycle for professional services firms. These include firms involved in IT services, architectural and engineering, design and planning, system integration, and management consulting, to name a few.
ERP's must serve "the needs of people in finance as well as it does the people in human resources [and other departments which typically have their] own computer system optimized for the particular ways that the department does its work. But
ERP combines them all together into a single, integrated software program that runs off a single database so that the various departments can more easily share information and communicate with each other
."
This sharing and communicating of information is all geared toward one, single purpose – achieving business goals.
Putting them together
Next, let's get back to one of my favorite subjects, soccer. Soccer is a game requiring the coordination of individual players, each with their own proficiency; sometimes it involves players from different nationalities, or differences in a position focus like a goalie or halfback or a variations in specific skillsets like juggling or dribbling the ball. The players rely on the communicating and sharing of information during a game to one single, purpose – putting the ball into the net for a GOAL, a win.
So, like the soccer team with different players, ERP consulting requires synchronization of dissimilar needs, processes, and indeed functions of the software of different departments, so that the business can achieve its business GOALS, its win.
It takes the right coach to win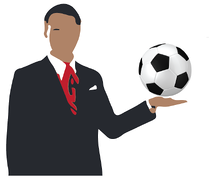 In soccer, while the right players, good equipment, and positive fan support are unquestionably important parts of the team's success, the keystone to an effective soccer team is, in fact, the coach. The coach's job is to balance each player's strengths against the combined team's goal of winning.
The coach in ERP is the ERP Consultant. Having the right individual department software is important, but the keystone to implementing a system, evaluating business processes, and bringing all that information together in a meaningful way is the ERP Consultant. This person, like the coach, has to balance all the individual parts, i.e. departmental needs, in order to reach the business GOALS of the entire organization.
How to find the right ERP Consultant
Choosing the right ERP Coach, er, Consultant is your important first step. This person can help you determine the scope of your ERP project – including costs, size, structure, business process evaluation, and ERP goals as well as help you research and find the right ERP solution for your business. Full Sail Partners, Inc., for example, specializes in identifying the critical resources to create a faster, more efficient, and cohesive business infrastructure for professional services firms looking at ERP solutions. Ultimately, you need a consultant who
listens to you
knows your industry
understands needs beyond the tool
understands your company culture, and
knows the ERP industry.
Don't get a red card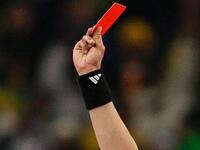 Choosing the wrong ERP consultant or software solution can lead to significant issues penalizing you in dollars, time and public relations. Following are only two examples of many instances of what happens when ERP implementations fail:
… Knight Capital, [a financial services firm,] recently lost over $400 million in a matter of minutes because of a glitch in its trading software — trading software that wasn't fully tested and properly deployed prior to production. In addition to the immediate impact of lost cash and profits, the software failure also caused the company's stock to drop 68-percent the day following the glitch.
SAP and AxonCity of San DiegoThe city of San Diego, CA terminated its software implementation contract with services provider, Axon, citing "systematically deficient project management practices" and a project that was running $11 million over budget.
But be aware, an ERP Consultant cannot entirely save you from these "red card" losses. Like the soccer coach, their real purpose is more about setting realistic expectations and sound goals, as well as offering their expertise for avoiding potential issues before they occur.
In the end
Although analogous in many ways, the reality is that soccer is purely a game to most of us while ERP consultants help you achieve your GOAL – a more efficiently run business resulting in greater success for all your employees. Calling Full Sail Partners as your ERP consulting expert is your first step in achieving your WIN.
And while going shirtless in below freezing weather or being painted the colors of your favorite ERP vendor is one way to show your support, it's not necessary. But then again…a Full Sail Partners logo on my chest would make me stand out in the crowd.