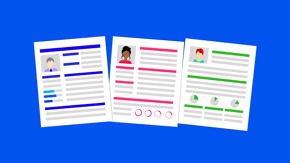 Recruiting top talent especially for project-based firms is a crucial and effectively a non-stop process. Since projects come and go, there is always the need for qualified team members to be able to jump in and handle them. So how do firms stay on top of the hiring game and get ahead of the competition? The answer lies in automating HR processes with a talent management system. Let's check out some ways automation would benefit your firm.
Work More Efficiently
Automation with a talent management system helps both candidates and recruiters work more efficiently. Everyone has limited time, so having a fast means of scheduling interviews, matching job skills and quickly getting desired candidates on board is a necessity. Particularly when a project opens up, and a team needs to be assembled, time is of the essence. An automated talent management system handles the core HR processes for you, so everything runs much more smoothly. Additionally, good candidates that may not be available to work at that moment can be kept in a standby position which is monitored through automation.
Better Candidate Experience
Your firm's chances of staying ahead of the hiring competition increases exponentially when job candidates are excited to work for your firm. With an improved candidate experience in the hiring process, top talent will feel confident that working for your firm is a good choice. Automated recruiting allows for communications to flow via email and follow up to occur in a timely manner. Hired candidates will also be on-boarded quickly and placed where their tracked skill sets are required. With an automated talent management system, candidates are left with a positive recruiting experience that will be shared with others that perhaps may become future employees.
Hiring More Diversely
Another plus is that recruiting automation ensures that the best talent is hired based on the needed skill sets for your firm. Human recruiting has a lot of bias and sometimes the same type of worker is hired. However, there are so many great candidates that can offer the team a wider outlook on handling projects. Whereas, automated hiring takes the bias out of the equation and only looks at the required certifications and job skills for working on projects. Studies have shown that diversity leads to a more productive workforce.
Automation is Attractive
From the perspective of both recruiters and candidates, an automated talent management system saves time and in the end money. Recruiters can connect with top talent more efficiently and talent has the opportunity to see what is offered quickly. Since projects need to be started as soon as possible and managed well, finding top talent is essential for success. Fortunately, automation is an attractive option for all parties to the hiring process and helps keep firms ahead of the hiring competition.