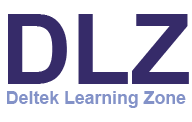 Have you ever wanted to learn how to get more out of your Deltek products? Well, Deltek has a solution for you! If you're a go-getter, you'll find the Deltek Learning Zone (DLZ) a great tool to expand your capabilities. Let's take a look at how you can access what DLZ has to offer.
Gaining Access to the Deltek Learning Zone
Here's some side information before we go to deep. For starters, Deltek Vantagepoint and Vision are offered in two versions. One being on-premise, which means your firm hosts Vantagepoint or Vision on their own servers. The other being software as a service (SaaS). This means your Deltek product is hosted in the cloud and maintained by Deltek IT staff which relieves your firm of the burden on maintaining your software and having to have hardware to store your data. So, why is this important?
If your firm is a SaaS Deltek client, there's some good news! You have access to the DLZ at no additional charge. If your firm maintains their own Deltek database, you still have access to the DLZ. However, there is a nominal fee your firm will have to pay to gain access.
Benefits of the Deltek Learning Zone
For starters, the DLZ is a learning tool. It allows users to access information and training materials about the Deltek products your firm utilizes. These resources allow you to learn more about the products you use and how to maximize them to reap all the benefits to improve your work performance. But wait, there's more!
Sure, you want to get the most out of the Deltek products you already have access to. However, is there an add-on module that can help your firm streamline more processes? Well, you probably know the answer is yes if you're an avid Deltek user. But you may not be sure of how they work and how easy they are to use. Well, the DLZ offers a simple solution for you to learn how these additional modules work and how easy they are to navigate.
Even more, many Deltek Vision users are preparing to upgrade to the latest Deltek ERP, Vantagepoint. However, many people are hesitant to change which is a natural instinct. Therefore, the DLZ offers several training tools to help overcome fears and answer the questions you have before upgrading to Vantagepoint.
Here's What is Offered in the Deltek Learning Zone
Deltek created DLZ with the core understanding that people learn in different ways. As a result, they created several ways for you to increase your knowledge and proficiency with your Deltek products. For starters, they organized the majority of the educational materials on a role-based library. Meaning that it's easy to find the right materials and training information that is specific to your job at your firm.
Futhermore, one person might learn by reading a document or watching a video, while others may need a more interactive environment. The DLZ offers several types of training tools to help users of all skills and to meet the needs of how different individuals learn. When you log into the DLZ, you choose to register for an interactive class or download on-demand videos and documents to get instant answers to your challenges you experience on a daily basis.
Do More with the Deltek Learning Zone
If you haven't explored what is offered in DLZ, you may want to start searching through the resources available. The reality is, you have created a career in the professional services industry and it's likely you'll be using Deltek products throughout your entire career. With that said, you should take a deep dive into the DLZ to see what new things you can learn to make yourself your firm's go-to resource for any Deltek related questions.