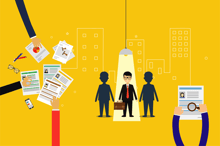 If you're an HR or recruiting professional, you're probably tired and maybe completely annoyed with the overly used and abused term… "war for talent." Today, we will bury that term deep into a grave with no headstone. Why do you say? Simply, because there isn't a "war" to win. Instead, let's think about recruiting like dating and the desire to attract the perfect fit. These days, many people meet their potential mates via relationship sites. Therefore, when a person is looking to find the right match for life, he or she goes to a source of available quality candidates. Shouldn't a firm look for the best employee to meet its needs using a similar system? So, how does a firm go about finding the right mates for its business purposes?
Utilize Internal Resources to Attract Talent
We've all been there - single with a group of friends who want to help us find our soulmate. They always have someone in mind who is the "right" person to match with you, and they know you really well. All that has to happen is the introduction and finding commonality, and bam, you've got your fit.
Well, if your role at the firm is to find the right match for business purposes, sometimes the best place to look is internally. You'll first want to let everyone know what you are looking for so fellow coworkers can be matched with these internal job requisitions. Employees might also know others from outside the firm that are good fits as well. Did you know that studies suggest that new hires sourced from internal referrals lead to reduced time to hire, reduced cost per hire, improved quality of hire and reduced turnover rates?
When internally advertising a new job requisition, here are some items to consider:
Can your staff easily access this information?
Are there incentives for employees to recommend your firm to their friends/acquaintances?
Are these new job requisitions advertised in a way to attract existing employees looking for internal change?
Use Your Website to Evaluate New Talent
Using your company website for matchmaking? That's a bit creepy if you think about it. But there are people using TV shows to find their potential mates so not too much of a stretch, huh? In a world of fast-moving internet connections, why should firms miss out on "speed dating" for their new job requisitions? Firms want to quickly separate those who may potentially be good fits from those who are absolutely not worth pursuing any further.
Let's focus on the careers section of your website. Here's the shocker, and I genuinely ask you to visit with your webmaster to ask what percentage of your website traffic is driven by the careers section. You'd be surprised that up to 50% of your traffic goes to your career page if you're a professional services firm.
With that said, your careers section should not be controlled by your on-staff or contract website guru. As the HR or recruiting person at your firm, you want the control to create and update your job requisitions as needed and when needed. You must have a simple format that is easy for potential matches to input the required information. Additionally, you need to be able to track the analytics of this page to know how many are reviewing the job requisition postings and how many of those convert to applying for the advertised open positions. Above all, with these job applications accessible on your website, you should easily be able to evaluate who may jive with firm culture and who is definitely a no-go.
Using Social Media to Connect with New Individuals
"Hey, I'm single and #ready to mingle!" Or better yet, "I've never met you before, so let me slide into your DMs." Believe it or not, this works great for finding a potential romantic mate and for generating interest in your new job requisition. The power of social media is amazing for so many reasons.
First connections see your post, then they share or like your post, and then their friends see and like the post, and from there…it continues to grow. Better yet, your firm probably uses several social media platforms on a daily basis. What better way to attract new talent than harnessing the power of social media? Additionally, social media allows your firm to add personality just like it does for an individual looking for a date or a mate. When using social media, you can make your messaging fun and personify your firm. Just think about the hashtags and who you might want to @ to bring more attention to your job requisition. Once you grab the attention of a perspective candidate, you'll likely get them to apply.
Stand out Above the Competition on the Web
If you're tired of being single, you're likely trying everything you can to attract and find the right mate. This means you're likely using multiple dating apps and websites. Even more, you are probably using the best photo you can find of yourself for your profile. You want to stand out, right?
Yep, there's a connection here too with finding the right person for your new job requisition. First off, you probably want to post it to as many job boards as possible. Sure, this takes time, but the more the better, and having the right tools can make cross-posting a new job requisition across multiple job boards simple. It even helps ensure the posting is consistent across all listings. Most importantly, you want your job requisition to stand out among the crowd. Make sure to use exciting job descriptions that emphasize the benefits of working for your firm over the competition. Lastly, you want potential candidates to be able to easily apply for your open position.
Quit Playing Games and Get Serious
Just like dating unimpressive potential suitors, interviewing underqualified or less than desirable talent can be frustrating. Technology has changed how people find dates and potential mates. Similarly, firms have access to better hiring management platforms. For many, the concept of an applicant tracking system (ATS) is nothing new, but people are still unaware of the benefits and the time-saving capabilities that these platforms offer. It is time to get serious about attracting and hiring the best talent for your firm.