Since the spring of 2020, many firms have had to transition to a remote only working environment. Learning to deal with this new operating style was certainly a challenge at first, but hopefully, these same firms are embracing the changes which could help to streamline the whole Human Capital Management (HCM) process. Let's check out how HCM can be successfully done remotely with no office required based on our own experience at Full Sail Partners.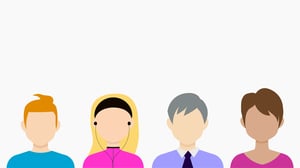 Pre-Hire
First off is the interview process which can still be done face to face, just virtually. Searching for talent is different when you work remotely. The location of potential new hires doesn't really matter. It is more about skillsets and the fit of the person with the company.
You will also want to ask different types of questions about working from home such as questions towards working autonomously and communication skills. You need to see signs of motivation and the ability to self-motivate with any candidates you interview. Some key questions are "Why would you want to work from home?" and "Can you handle IT issues on your own?", "Do you have internet?", and "Do you have a quiet place to work from". These types of questions will help you determine whether a particular candidate can handle a remote only position.
Onboarding
Once you've found the talent that seems to fit your remote work environment and the offer letter has been accepted, it is time to prepare for this new hire. Working remotely, a very important place to start is with the IT aspect. Having a standard online checklist of items that IT should prepare for is super helpful. Deltek Collaboration and Microsoft Teams are great solutions that allow you to copy a template that includes a list of standard tasks or assignments. Don't reinvent the wheel each time you have a new hire. Everyone needs a computer and login info for different types of software. Send that info ahead of time so new hires can be ready day one to start learning more about the company. Also be sure new employees are provided with contacts within the company that can be approached for different needs. Working remotely puts the onus on the new hire to seek out the answers, but they should have a list of resources.
Another significant way to start on good footing remotely involves setting goals. These goals will have details about expectations to accomplish. The goals should focus on steps that are required to be successful. We find establishing 45-day, 3-month, 6-month, and 9-month goals can ensure the employee knows exactly their priorities and allows them to proceed forward with confidence. A supervisor should meet with the employee at the end of each of these time increments to discuss where they are in meeting their goals and determine if further mentoring or training is required.
Retention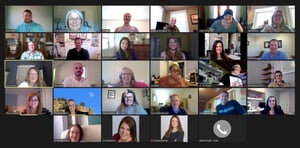 Now that you have the right people for remote work up to speed, think about ways to engage employees and offer professional development. Since you can't just walk down the hall to see what is happening, you have to trust them and their desire to perform their duties. Continuous feedback and performance discussions are key. It is a good idea to check in to see how things are going in frequent intervals.
Finally, day to day is different in the remote world with no monthly team lunches or birthday cake. However, time can be taken to meet virtually over Zoom, have phone conversations or even text. Just recently, Full Sail Partners had a virtual happy hour to get the gang together with a little bingo time. Being comfortable in a new position at the outset also promotes retention. New hires can learn about the roles of the various company positions through shadowing them. Once employees have shadowed certain firm members, they can then take the lead knowing that there is a built-in safety net still shadowing them. Offering professional development opportunities and trainings is another means to ensure retention. There are plenty of online resources available.
Learn More From Full Sail Partners' Sarah Gonnella
Sarah is interviewed by another Full Sail Partners' Crew Member about the onboarding process at our firm. Watch the video below.
Remote Going Forward?
Full Sail Partners has been a virtual company for more than two decades and has proven that HCM can be done remotely with success. For those firms who have seen the benefits of working remotely, there may not be a return to the way before. Let Full Sail Partners' experience guide you going forward. If your firm is interested in learning more about remote working, feel free to reach out to an employee to learn more about their experience.