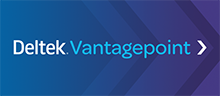 When Deltek for Professional Services (DPS) 2.0 is released, it will have a new name - Deltek Vantagepoint. In addition to the name change, there will be several enhancements to improve the user experience for both back office and front office users. Here is a sneak peek of how Deltek plans to take the breadth and depth of the Vantagepoint solution to the next level.
Say Goodbye to the Smart Client
With the release of Vantagepoint 2.0, Deltek will begin to push users away from the smart client and direct them to the web browser version. Using this version, they will be able to access Vantagepoint from any device that is connected to the internet using any browser they desire. Think of it this way - Vision is the smart client and iAccess is the web-based version. Keep in mind that if your firm is still using Vision, you may want to consider using iAccess more to get comfortable with the look and feel of Vantagepoint.
Proposals Engine
The proposals engine is now being introduced to Vantagepoint, and it is a great feature. For marketing, the proposal process can be extremely time consuming. With the proposals engine, a person creating a proposal can go through and check off boxes based on the requirements of the RFP, and Vantagepoint will automatically create the proposal. It can include images and pictures, employee resumes, past work examples, references and more.
Combined Opportunities and Projects
The opportunities hub is going away and is now being combined with projects. This has a huge upside for business development. By tracking an opportunity as a project, time and associated costs can be captured to help determine the price of pursuing new work. Additionally, a timeline with milestones and reminders can be developed to ensure business development is staying on top of winning the opportunity.
Simplified Transactions
Moving forward, transactions will be managed within a single location. Users will go to one place within Vantagepoint to enter, edit, report, post and approve transactions. Additionally, you will have the option to enter transactions without files and to post on entry. The line item detailed view will still be available.
Project Information Management Integration
Deltek Project Information Management (PIM) will now be integrated with Vantagepoint. It will be easy to find since it will be a tab in the project record. By using PIM, firms can easily share project related documents and information within one platform.
Expanded Dashpart Designer
The new improved dashpart designer allows users to create custom dashboards with information that is important to them. They can select bar and line graphs, pie charts, or other graphics as part of their dashboards. Additionally, users will have enhanced control for grouping, sorting, filtering and totaling data all within the dashpart.
Improved Reporting
The reporting screen will now have a preview menu. When users create a report, the multiple clicks required in the past will be eliminated. The reporting tool will also include charts and graphs.
What Deltek Vantagepoint 2.0 Means to Your Firm
One thing is for sure - 2018 to 2019 will be a transitional time for Deltek Vantagepoint. As Deltek continues to further develop Vantagepoint, more features will be added to further enhance this solution. The most important take away for users is that they need to be aware of the changes coming and they need to be ready to embrace them.