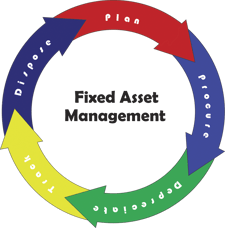 Professional service firms don't traditionally sell products; rather they sell their time and expertise. Increasingly, they ARE selling products and time, and are spending a great deal of capital on tools to deliver both.
A common problem is that many firms can easily see the profits generated from their services, but overlook the contribution (or lack thereof) of the inventory AND fixed assets used to deliver the service by not managing both. Even worse, they frequently manage and track them in the same manner.
Inventory management and fixed asset management are not one and the same. Read on to learn the difference between the two and understand the importance of utilizing proper accounting for fixed asset management.
Inventory Management
In the professional services world, inventory management is only slightly different from the retail and the production world. Inventory assets represent the items sold or the materials used to create a final product that will be sold. Inventory assets in professional services firms represent the intangible or intangible assets sold along with the service. This could include software or equipment. This is not to be confused with immaterial items, which are usually expensed as overhead. For most professional service firms, the inventory asset is a relatively small percentage of total firm assets.
Most importantly, unsold inventory appears on the balance sheet as an inventory asset and sold inventory appears in the Cost of Goods Sold on the income statement. This is an important standard of Generally Accepted Accounting Practices (GAAP).
Chances are, if you are selling goods as a part of your service offering, you are likely following the standards and hopefully using the Vision Purchasing module for tracking and control. But what about Fixed Assets?
Fixed Asset Management
Like Inventory, fixed assets exist and have specific accounting treatments for professional services firms, retailers, and other types of businesses.
Fixed assets are purchased assets of the firm for long-term use to support ongoing business operations. For example, fixed assets are laptops, desks, software, and vehicles, just to name a few. Since fixed assets are transferable within the company and will be used for multiple projects and multiple accounting periods, GAAP dictates a different accounting treatment than would be used for inventory management. More importantly, fixed assets in professional services firms are typically a large percentage of the total firm assets. In today's world, the computer, machine, and installed software are the main tools used in delivering the services and often are given the least attention in the firm.
Why Is This Important?
Inventory management is a relatively simple task, but fixed asset management presents several challenges such as:
Knowing the location of an asset to ensure you can deliver your projects on time
Maximizing the usage of an asset to ensure the maximum ROI is gained from the asset
Knowing the history of similar assets to make informed about purchases of new assets
Tracking the depreciated value of an asset for tax and insurance purposes
Keeping the Balance Sheet clean and free of historical errors to provide accurate ROI and other metrics
Overcoming these challenges doesn't have to be difficult and can be easily accomplished by deploying an asset management tracking system. When choosing to implement an asset tracking system, it's important that the system is integrated with your project management, purchasing, and accounting systems to ensure information about the asset is accurately maintained and easily accessible.