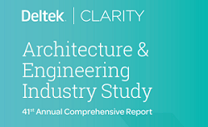 Every year, Deltek collaborates with ACEC, ACEC Canada, AIA and SMPS to conduct a study to measure the health of the AE industry. The 41st Deltek AE Clarity Report provides a comprehensive assessment of the 2019 performance of AE firms. Furthermore, the study collected responses from more than 415 firms of all sizes within the AE industry. While many of you will eventually read over the findings, here is a summary of what you will discover in detail.
Clarity on AE Technology Trends
With no surprise, technology is a leading focus for AE firms. It seems like this is a trend every year, and it is now becoming even more important for AE firms to invest in technology to be competitive. Surprisingly, augmented and virtual reality is driving a deeper interest into technology investments for AE firms. Even more, firms that have been challenged by the costs of emerging technologies are finding them more affordable as they become more mainstream. According to responses from the Deltek Clarity survey, firms have accepted that the cost of investing in technology has a significant and beneficial impact on the efficiency of their operations.
Clarity on Financial Statements
2019 proved to be another great year for the AE industry in regard to financial performance. The report explains that over the past 10 years, the financial stability of the AE industry has remained strong and has shown growth. While many of the core metrics measuring financial strength demonstrate small changes from year to year, the changes are continuously positive. A significant finding is that operating profit on net revenue and net fixed assets per employee did rise in 2019. Furthermore, the benchmarks for operating profit on net revenue and net labor both surpassed the high performer thresholds which backs the findings of financial stability in the AE industry.
Clarity on Business Development
This section has some interesting findings. Win rates were down and so was revenue from the firm's top three clients. However, there may be some factors that can explain these results. Is it because firms are lacking a formal go/no go process to improve new business pursuits, or are firms pursuing business in new markets? Are your firm's top three clients doing less work? Perhaps it is a combination of all these things. But one thing remains certain, that business development continues to be a challenge for AE firms.
Clarity on Project Management
What, what, what? The 41st Deltek Clarity Report found that AE firms, which are project-based businesses, have recognized they need to improve their project management capabilities. Yes, you read that right. Many AE firms are reporting they need to better define responsibilities and processes, develop better practices, and invest in project management training. How fantastic that AE firms are recognizing that project management and delivery is hindering the overall performance of their firm and acknowledging there is a need for change.
Clarity on Human Capital Management
Human Capital Management is a not a problem unique to the AE industry, and it affects nearly every profession. For AE firms, talent acquisition is the top challenge leaders face each year. Since a firm is only as good as the people it employs, acquiring and retaining top talent is essential to staying competitive. Unfortunately, talent acquisition is going to continue to be a challenge for AE firms since the number of available experts is limited. Also, AE firms continue to fall short due to lack of succession planning. This is something AE firms should evaluate as we approach a generational change and baby boomer retirements.
Learn More with the 41st Deltek Clarity Report
For many, the Annual Deltek AE Clarity Report is a valuable tool used to benchmark the performance of your firm. It's important to keep in mind that using this report from 2019 to compare to your current fiscal year of 2020 may give you skewed results as the global pandemic's effects are still unseen and predicting the impact is nearly impossible. Good news though, you can still compare your 2019 results against the report findings, and Deltek plans on releasing the 42nd Annual Clarity Report in 2021, which will most certainly shine light on the impact of the global pandemic.