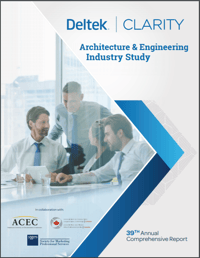 The long-awaited 38th annual Deltek A/E Clarity report is now available! For those of you who are unaware, each year Deltek performs a detailed Architecture & Engineering Industry study. It is the lengthiest and most thorough study in the industry. Using the A/E Clarity report results, Deltek is able to offer firms unique insights into the AEC industry.
More than 550 firms across the United States and Canada participated in this year's study. About 25% of participants were from architecture firms, nearly 60% from engineering firms, and the final 15% represented all others. The size of participating firms ranged from small firms with 0-50 employees to large firms with 251 employees or more.
Key Findings in the 38th Annual Deltek A/E Clarity Report
The Deltek A/E Clarity report is full of data that allows you to compare your company's statistics to others in the industry. Information included in the report is comprised of data collected from 2016. Here is a quick preview of some of the statistics you might find interesting:
Financial Management
Overall, firms' financial metrics were flat to slightly up
Operating Profit on Net Revenue at 13%
Utilization at 60%
Overhead Rate is down 154%
Business Development
Firms putting a greater focus on client relationships
Nearly 6 in 10 firms cite finding time to nurture client relationships among top challenges
Win Rate dropped 4.8% this year to 40.2%
Net revenue growth forecast bumped up to 5.3% this year
Project Management
Firms investing more in project managers
73% of projects are currently on or under budget, up from last year
Firms with very mature project management tripled to 19%, up from just 6% last year
Top 3 PM KPIs tracked – profitability (95%), average collection period (81%) and multipliers (69%)
Talent Management
Firms are reevaluating HR technologies to streamline workflows and automate processes
Staff growth increased to 6.9% this year
Employee turnover is down 2.3%
Nearly 8 in 10 firms ranked talent acquisition in top 3 most expensive HR processes
Future Outlook from the 38th Annual Deltek A/E Clarity Report
Although this year's report shows that firms continue to remain solid financially, they must continue to focus on project management procedures so that projects are kept on time and on budget while meeting the expectations of their clients. With business development, firms must be constantly looking ahead at where their next projects will come from, what they look like, and how they will be achieved. Additionally, firms must continue to advance their efforts in talent management to find, hire and retain the best of the best.
Benchmark Your Firm with the Deltek A/E Clarity Report
Using the A/E Clarity Report results, you can now compare your firm's data, not only to your firm's previous year, but also to the data of hundreds of other firms in the same field. This report offers significant insights to help you visualize where your firm is today and assist you in developing goals and a plan for the future. For an in-depth view of everything included in the Deltek A/E Clarity report, download your copy today.