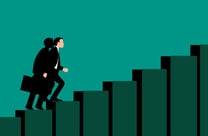 In order for project-based firms to be successful, they must employ the most qualified talent. Furthermore, the most talented employees need to feel empowered and engaged with their firm and look forward to growth in their career paths. Allowing staff to own their career paths ensures longevity with the firm, and the Deltek Core HR solution provides this capability. So, how does Deltek Core HR enable employees to own their career paths? Great question - let's take a look at the key features that make it possible for employees to feel empowered.
Employee Self-Service
Today's workers expect to have the ability to handle matters on their own. This is especially true for staff members that are on the go or working from home. Additionally, it is certainly much easier for employees to update information on their own rather than having to call or email HR. With self-service, staff can do this and ensure that their certifications and training requirements are up to date. With Deltek Core HR, employees are able to independently manage their personal data and keep it current.
Professional Development
According to a 2018 LinkedIn Workplace Learning Report, the number one reason employees felt held back with their professional development was because of time. With the Deltek Core HR solution, employees can easily take training in the system which is automatically built into their history. Instructor-led and e-learning classes are viewable in the course catalog and can be simply enrolled in when employees desire. Furthermore, certificates and education units achieved can be downloaded proving that job requirements are being met. Deltek Core HR allows employees to see all of their certifications and training so they can stay on top of their professional development.
Up to Date Resumes for Proposals
Another benefit of Deltek Core HR is that employees can maintain their resumes in the system, updating them as needed. Having access to resumes ensures that they are always the most recent ones especially when they are part of your firm's proposal process. When selling professional services to clients, the top available talent needs to be evident to win the work. Employees who want to get the most desirable projects want to have their skill sets and certifications up to date. Deltek Core HR lets employees put their "best faces" forward by being current with their resumes.
Applying for Job Openings
Also, with resumes being immediately available in the system, staff can search and quickly apply for internal job openings that may be of interest to them. They can also see what the skill sets and requirements are for the open positions and of course easily sign up for the necessary training then add it to their resumes. With Deltek Core HR, employees are put in the driver's seat of their career advancement by being able to choose what direction to take and how to get there.
Track Feedback
The best employees want to see that they are meeting or exceeding expectations. Within Deltek Core HR, the Deltek Talent Performance component offers the scheduling and tracking of continuous feedback. Employees choose the time of these feedback sessions and comments from both staff and managers are tracked. With feedback, employees are given guidance about their performance which ensures they are right on track with their career.
SMART Goals
One other aspect of owning career paths is setting goals. Deltek Core HR provides employees the tools to set up SMART goals – Specific, Measurable, Attainable, Relevant and Time-bound. The goals can be set up by preference whether it is a numerical target or complete/incomplete. From the My Goals link under Performance, employees can access their goals. When goals are being met, employees work even harder which ensures success for the firm as a whole.
Deltek Core HR Benefits All
In the end, Deltek Core HR is a solution that benefits both employees and business leaders. With the convenience of self-service and putting staff in charge of their career paths, there is more engagement and thus a desire to stay with the firm. Additionally, having many HR tasks handled by employees eases the burden on those who usually manage it which allows them to focus on business development and success.