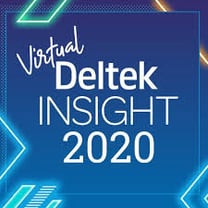 As a Deltek Partner, Full Sail Partners looks forward to networking, teaching, and learning at Deltek Insight each year. However, due to current circumstances, this year's Deltek Insight conference will be VIRTUAL and held on September 15th and 16th. Though the conference will look different as a virtual event, we know it will be a success. You may also notice that the dates are slightly earlier in the year than in years past. One benefit to that is having more time to incorporate new initiatives as 2021 nears. Even if your home or office may not look like a Gaylord resort, you will want to participate in all aspects of this FREE virtual experience. Let's take a look at some of the incredible reasons why you should attend Deltek Insight this year.
Expand Your Understanding
Deltek's product line up is beneficial to professional services firms. Technology has truly helped firms continue operations and keep business flowing this year. Deltek products have played a vital role in that. The robust systems can streamline processes and increase efficiency for your teams. Conference sessions will help you better understand the many areas of Deltek. In addition, you will learn about many exciting features as firms upgrade from Deltek Vision to Vantagepoint and as Deltek enhances other products.
You will have ample opportunities to meet with Deltek experts throughout the conference. In addition, our experts at Full Sail Partners will be available at our virtual kiosk. We will have Rick Childs, Scott Seal, Scott Gailhouse and more to answer your questions about the finance side of Deltek; Kevin Hebblethwaite and Lindsay Diven will be online to cover CRM topics; and Rana Blair will have Resource Planning covered! Additionally, if you have questions about the transition from Deltek Vision to Vantagepoint, we have that covered as well.
If you need a little more help with a certain area, you can meet with a Deltek expert who can assist you. "Meet the Experts" is a 30-minute 1 on 1 session with a Deltek expert. These meetings are first come first serve and the slots fill up fast. Getting one on one expert advice provides new insight on your products and is another great reason to participate in Deltek Insight. For more information about these sessions click here.
Be Inspired
Deltek has secured some strong keynote speakers. As our business environments shift, you will want to hear the experiences and advice of Dr. Shirley Davis, Mike Robbins, and Mike Corkery. Here is a little about each:
Shirley Davis is a diversity & inclusion thought leader who will talk about embracing workplace diversity. She will share tips on how to work effectively in a diverse environment and manage workplace conflict.

Mike Robbins, host of this year's Deltek Insight, will take the reign on navigating attendees through Deltek's first-ever virtual Insight. He will also share his perspective on managing stress and enhancing mental and emotional well-being.

Mike Corkery, President and CEO of Deltek, will speak about persevering through uncertainty. He will share how Deltek has enabled customers to continue their success and address questions from attendees.
Network the 2020 Way
Everyone has had a different business experience than originally planned for 2020. Learn from each other and grow your skillsets as you talk with industry peers. Sponsors will have virtual kiosks so be sure to stop by each one! Be on the lookout for other networking opportunities as Deltek Insight nears.
One way to get some visibility is to shine on Deltek Project Nation's Got Talent. This attendee participation event gives you the microphone and an opportunity to showcase your skills for a chance to win a $2,500 cash prize plus a $2,500 donation to a Deltek charity of your choice. Bring your talent on this one - singers, dancers, comedians, contortionists, and more! Submission deadline is August 21st, so get your acts in!
Register Now for Deltek Insight 2020
There's so much to look forward to with this year's virtual Deltek Insight. Be sure to register NOW for this FREE event! You can network with industry users, learn from the experts, collaborate with peers, and get a stronger grip on the Deltek ecosystem.