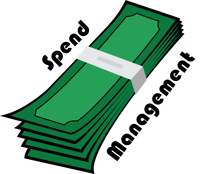 Spend Management is a popular term, but what is it really? Spend Management can encompass anything from procurement, supply chain management, expense control, outsourcing and more. For most businesses, managing spending may not seem to provide a competitive advantage nor differentiate them from the competition. While this task doesn't directly drive revenue, figuring out how to better manage and control your travel costs, expenses and invoicing does provide significant business value.
So, what exactly does a good Spend Management strategy need to accomplish? It should:
Simplify accounts payable (AP) workflows
Enhance the end user experience
Encourage mobility in the AP process
Improve compliance levels
Provide increased insight into spending
Allow for visibility of expenses before they are incurred
What Can All This Do for Your Firm?
Spend Management will lower your capital expense profile, increase employee productivity, lower costs for managing operational functions and drive new capabilities that have a direct impact on business performance. Accomplishing these goals allows your firm to continue to compete in this hypercompetitive environment that continually rewards sustained agility.
Organizations typically start with a manual process for managing purchasing, expense reports, and invoice management. As the company grows in size and complexity, workarounds like spreadsheets and physical reconciliation are simply no longer efficient and directly impact the further ability to grow and manage spending.
According to an IDC study (Document #US42246116 © 2017 IDC), implementing effective strategies can result in:
68% less time processing invoices
Improving company procurement compliance by up to 14%
Increasing productivity by an average of 11% using mobile/OCR management tools
Reducing IT staff time to manage spend by 29%
How to Evaluate Solutions to Help Your Firm with Spend Management?
There are many factors to consider when evaluating a Spend Management solution. Here are some key things to contemplate:
Business ready: Solutions must be able to scale to accommodate your firm now and in the future, and must automatically link into existing accounting and ERP systems. These are secure, cloud-based solutions that fit within the CIO's IT policy framework, are cost-effective and easy to deploy across the organization.
Business Intelligence: These solutions must be capable of providing greater business performance visibility and driving smarter decision-making. With a solution that offers more than automation, executives are armed with the insights to identify business opportunities that never existed before. What used to take days or weeks can now take hours.
Complete visibility: Encompassing all areas of spend in one solution, including travel costs, expenses and invoice management, is ideal. If you only see a piece of the puzzle, it is virtually impossible to view the entire picture. With solutions that can integrate all of the data and incorporate your firm's spend management regulations, you can ensure there is maximum compliance and have the easiest adoption across the company with only one solution to learn.
End-user adoptability: As better financial performance rests with reducing accounts receivable turnover and achieving greater efficiency in cash flow management, businesses need to ensure that finance and accounting staff, as well as their employees, are able to quickly and accurately execute a modern, mobile process. When end users are satisfied and are able to employ solutions anywhere and anytime, this results in faster and increased adoption of the solutions and increased financial performance.
The best systems provide better visibility and insight into non-PO spend, P-card spend, and corporate card spend as well as meet employees where they are. They allow for visibility into spend before the money has been spent (PO management) and follow through to auditing with full details completely integrated into your firm's ERP system. They also can incorporate all of these areas of spend into one solution so it's easy to quantify spend across all areas.
Gain Control of Your Spend Management
Expectations and demands for employees, especially finance staff, have never been higher. The cost of lower productivity, employee turnover, and inefficient financial operations is now even more critical to a firm's success and must be addressed. Employees require mobile, efficient solutions to increase their overall satisfaction and productivity. With increased industry compliance regulations, accurate reporting is now a necessity instead of a luxury. Now is the time to get control with a Spend Management solution.