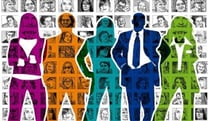 Those in marketing for professional services have a level of knowledge they had to build, likely for a field they did not pursue, and use that knowledge of services to build a brand. In doing so, marketers paint a picture of the firm that they promote. Usually marketing professionals find themselves helping many departments throughout the firm. Not only is collateral client-facing, but marketers often have a responsibility to market to the firm internally. Over the years, I have found many marketers to be integrators in a firm so let's check out how marketing plays well with others:
Know the Brand
The brand is more than the firm's identity and reputation. According to an SMPS article, "…strong branding is viewed through three lenses: overall firm branding, personal branding, and employer branding. All three are crucial to a strong brand foundation—and all three are connected in important ways that contribute directly to your firm's success."
Marketing has the fun responsibility of viewing the firm with a broader lens and shining the best light on firm strengths. As marketers believe in the services the firm can provide, they can use various channels to get the right message to the right audience. Therefore, knowing internal teams is just as integral as knowing clients.
A lot can change in a firm, whether it be people, services, or goals, and marketers need to be in the know of company happenings to properly communicate the appropriate message. After all, the only constant is change. Marketers find themselves having to be very flexible with messaging as well as keeping up with the dynamic structure of the firm.
Master the Service Lineup
Professional services firms typically have printed material, a digital footprint, and many proposals created for specific clients. Marketers must have knowledge of the firm's services and a strong bond with technical staff to collaborate and create content. While a majority of technical staff has vast knowledge of what services its group offers, it's important to educate everyone on all of the firm's offerings, even if at a very high level. This can lead to more aware project managers as well as cross selling. All marketers should take advantage of education opportunities.
Knowing that many marketers have a great understanding of the firm's services, they can become integrators within the firm, matching up employees that can benefit from bigger discussions. Collaborations do not stop with technical departments.
Recruit Like a Pro
Great minds come together for the greater good when human resources and marketing collaborate. Recruiting can be quite time-consuming; however, attracting top talent can tighten the candidate funnel. Pulling together human resources' knowledge, the firm's brand, and creatively crafting the right message can yield strong new recruits for consideration.
To that note, a firm's digital footprint can play a huge role in a candidate's interest. Using social media as a recruiting strategy can have phenomenal results. According to harver.com, 92% of recruiters use social media in their efforts. It is a way to engage passive candidates and employees, make connections, and share quality content.
Naturally, recruits or potential candidates google the firm and can be quick to judge on initial findings. It is imperative that a firm's brand stand out on social media, such as LinkedIn, and on the firm's website and network.
Set Standards from the Start
After an offer is accepted, it is also beneficial to include marketing in onboarding efforts to educate the new hire on the following, at a minimum:
Branding guidelines (colors, logos, firm names, and more)
Branded swag
Proposal resume building
Email signature
Collateral that covers all firm services
As marketers share branding guidelines and set brand expectations from the start, new hires are immediately in the know when it comes to firm resources that are client-facing.
Own that Hat Closet
Marketers may notice that they wear many hats as time passes at a professional services firm. Each hat will give different insight into the firm and potentially challenge the "norm." There are conversations with all roles of the firm, from C-suite to staff level. All of these collaborations help build the firm's message that is distributed through email campaigns, mailers, proposals, onboarding, and both digital and social content. With each hat that is worn, many areas are weaved together for a more cohesive firm and a stronger brand.