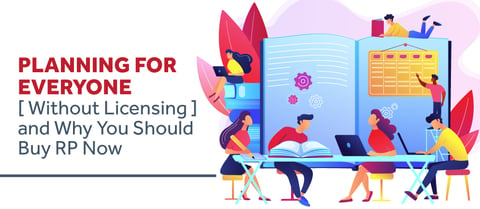 Deltek Vantagepoint features a free Planning tool that is available for use by EVERY user on ANY type of project. That's right! The Vantagepoint Project Planning application is free with Back Office and ready to use without additional licensing costs!
Your team can enjoy the benefits of using a modern project planning tool with no messy integrations or boring training sessions. With just a few steps, your firm can go from looking in the rearview mirror to careening toward excellence using a modern predictive planning tool. Just open the software, get a little Best Practices assistance from your friendly Deltek Vantagepoint Planning Consultant, and get users trained. Then watch how it improves awareness and performance.
Login now and you can access…
Plans for any Project Charge Type.

Overhead Projects – Wonder where the IT time goes? Use the Plan to review JTD Spending on Labor and Expenses!

Promotional Projects – Need to be conscious of the spend on pursuing projects? Create a plan to set expectations and monitor spending!

Regular Projects – Set up the plan and budget for resources and review at any time.



Contract Information
Planning provides users with key information on the contract values stored in the Contract Management section of the Project. When the Contract is updated in the project, it is updated in the plan automatically! WOW!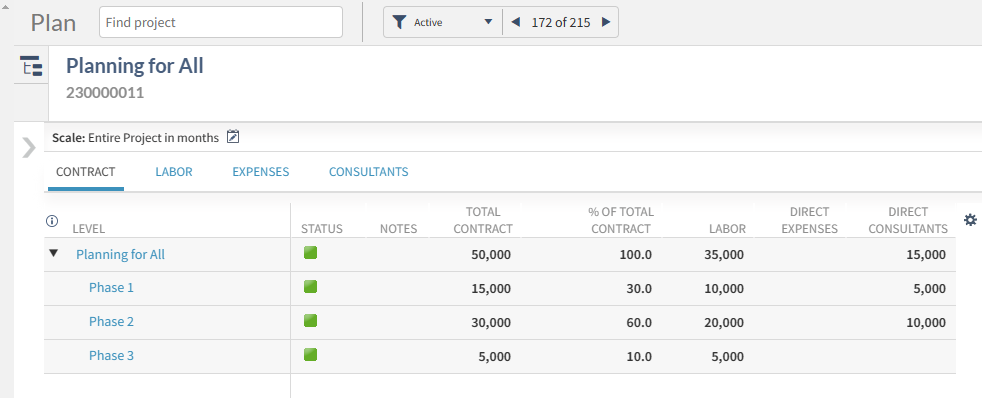 Labor JTD Review and ETC Planning
Using the plan to view JTD Labor and enter the remaining hours needed to complete the work is simple and provides immediate feedback on the expected total hours.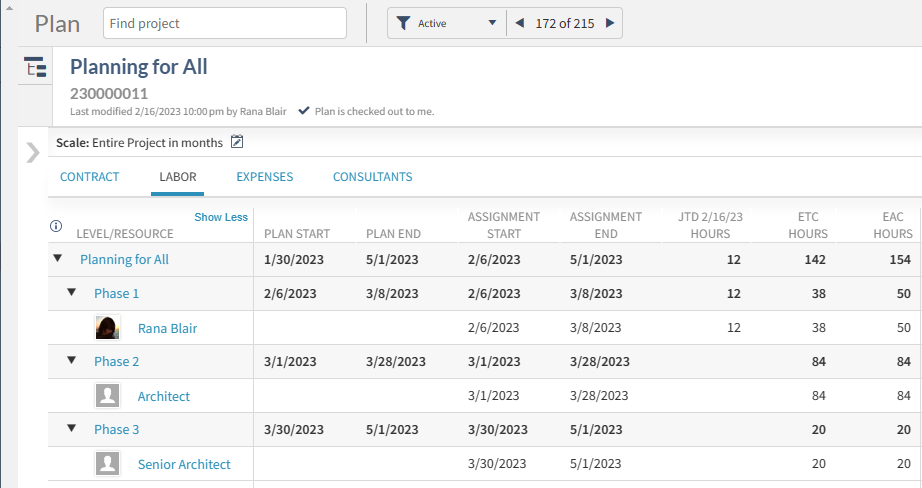 This information automatically calculates dollars spent and projected at Billing or Cost values and generates a forecast of project performance.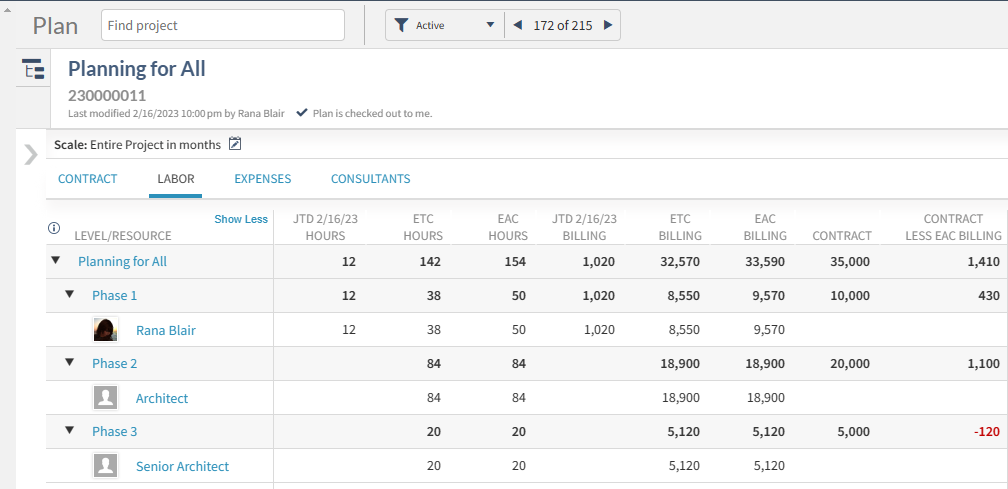 Planning for Expenses and Consultants
Expense & Consultant budgets can be planned in dollars, and like the Labor, the posted amounts are updated in the plan automatically.

Visibility EVERYWHERE!
Viewing project performance in the plan effectively replaces the boring black & white reporting we've been forced to use all these years! It's so exciting!
Want to keep your reports? You can have them at no extra charge. The data from the plans can be used in most Project reports by simply changing the Budget Details to Project Planning Budget and choosing the right columns.


But Wait, There's More!
Want a reporting tool that updates automatically when your plan changes? You can have it! See the same information from the plan in a colorful Deltek Vantagepoint Dashboard! Just wow!

Do you feel like you must choose between the Budget tool and the Planning application? Well, you can have both! Review Planned Data next to Budget data in the new Vantagepoint Project Review. Accountants can have their place and Project Managers can too!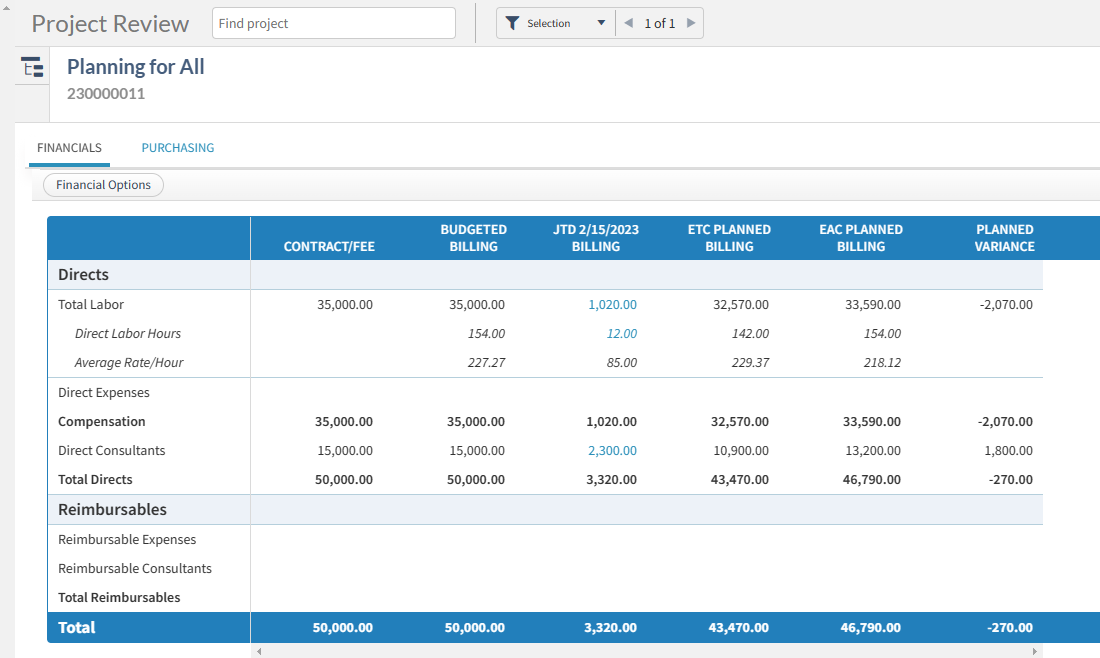 And there's even more! Implementing use of the Planning tool allows your firm to extend the investment with Planning Resource and Budget Alerts. Planning data can even be used to streamline and validate Timesheet Entries.
All This for ZERO Easy Payments
Let's review the features you get for ZERO Easy Payments!
Labor, Consultant, and Expense Planning
Planning by Employee and Generic Resource
Real-time Labor visibility (including unposted time!)
Data Visibility in applications, reports, dashboards
How Can So Much Be Free?
It's simple, the tool has been scaled to fit the current needs of firms of all sizes. Adoption of the basic tool is easy, and the benefits easily recognized. Today, you can dabble in the Planning tool with little investment. And when you are ready for more, simply add licenses without losing any of the momentum you have achieved.
What is included in the licensed Vantagepoint Planning and Resource Management application?
As of Vantagepoint 5.5, features available to licensed users fall into four categories:
Usability Features

Schedule Tab with exportable Gantt chart

Schedule (Task) Dependencies

Planning Subrows to display Planned and Actual values for Hours, Cost, Billing in time scale periods

Planning Assignments displayed on the Employee Card

Bulk Redistribution of Hours and Variance Spreading

System Extensions

Project Pursuit Stages

Revenue Forecast Application

Estimated Fee and Probability fields

Planning Exports

Visibility

Project Planning Reports

Planning Dashparts such as My Upcoming Assignments

Resource Planning Data in the Calendar Timesheet

Resource Management

Resource View, Project View, and Reporting

Generic Assignments Dashparts
Getting So Much for So Little
You might be wondering, "How can so much come for so little?" It's simple, the tool has been scaled to fit your needs now and in the future. Today, you can dabble in the Planning tool with little investment or risk. And when you are ready for more, simply add licenses without losing any of the momentum you have achieved.
Whether your firm has zero or hundreds of licenses for Deltek Vantagepoint Resource Planning, the need to manage project performance is universal. The steps for input and maintenance are all the same regardless of how far you want to take the data.  Act Now!  Get started with Planning today!