QuickBooks serves as a logical starting point for SMB professional services firms. For good reason - it's affordable, popular, and easy to use accounting software. Though, on the downside, it provides very little flexibility and accommodation for how a business actually needs to run.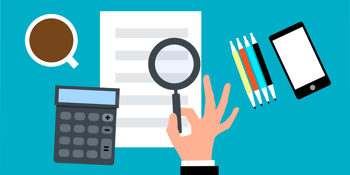 Simply put, QuickBooks isn't designed for project-based companies. It's an entry-level accounting system, with purposefully generic functionality, intended to serve a diverse client base that spans various industry types. Consequently, the basic and straightforward nature of the product, which perhaps is viewed as a positive, can quickly become the opposite. Many professional services firms will eventually reach a point where the limitations of QuickBooks can hinder future growth.
When might a firm reach that point? Below are 5 top reasons clients are choosing to trade in QuickBooks for an industry specific ERP that is purpose-built to meet the needs of a growing project-based business.
Cumbersome

Invoice Creation
For a project-focused professional services firm, getting client invoices created and out the door can be considered one of the most critical functions. This process may have once been easy, but as the business has grown, projects have likely become more complex. With that means more complicated, multi-part, client invoice requirements.
What used to take a couple of hours is now taking over a week, and accounting staff is burdened with cobbling together invoice-supporting data from various disconnected, error-prone sources. Not to mention the challenges of even getting the project management team to complete their timesheets in the first place. Once those bills have finally been painstakingly created and issued to clients, they still may not be correct.
Incorrect invoices going out the door can slowly erode the trust of clients and lead to unnecessary, time-consuming, back-and-forth. On the other hand, accurate invoices, which are processed and paid quickly by clients, can provide various benefits to include reduction in DSO (days sales outstanding) and increased cash flow.
Limited Visibility into Project Reporting
Do Project Managers and professional services firm leaders have a consistent and reliable source of truth to monitor the overall health and status of projects? For many who rely on QuickBooks, the answer is no. Just like on the invoice creation side, the necessary data to support project reporting is scattered among various spreadsheets. Answering what should be a simple question related to project status could take days to assemble a response. By the time of that response – odds are, the data is already out-of-date, and often irrelevant. The thought of any 'real time' project status, to include capturing data such as committed costs, may likely seem impossible when operating within these sorts of system-related confines.
Not having a proper visibility into project timeline, budget, and other KPIs has consequences. It can quickly eat into profit margin and limit a professional services firm's ability to make informed decisions in support of its projects and business.
QuickBooks Lacks Support for the Entire Project Lifecycle
Everyone needs an accounting system. However, even a relatively small, basic operation may quickly find that it needs more tools at its disposal. There are obvious functions like time keeping & employee expense reports, providing the ability to seamlessly allocate those costs to projects in support of invoice creation and project reporting. Additionally, perhaps there is a need to link the front and back-office operations to better manage the complete 'project lifecycle' (from initial lead pursuit through to project close-out). This includes a CRM (customer relationship management) module, or the ability to do more detailed project planning and resource scheduling.
These are all areas and functions that a professional services firm is undoubtedly already actively performing, but just manually and "offline," using spreadsheets and email to manage. The purpose of an ERP is to combine multiple functions within a single fully integrated solution that spans the entire business. More specifically, a project-based ERP is designed to do the same, but with functionality specifically geared towards a project-oriented company.
Sure, QuickBooks capabilities can be expanded using external and 3rd party add-on tools that make initial claims around 'integration'. Yet, the result for many who go down that path can be a clunky, frustrating software experience – leaving many wishing they instead invested their time and resources into the lower-risk approach of just implementing a Deltek product.
QuickBooks Can Limit the Ability to Pursue Projects
For many of the reasons already stated, professional services firms shy away from pursuing new projects they fear may be too taxing and burdensome on their existing accounting system. Simply stated, they don't have the tools in place to responsibly graduate to the next level. Passing up new business opportunities can be painful, but unfortunately necessary, for those firms who are not equipped with the internal systems to support growth.
Take WBS (work breakdown structure) requirements, for example. This means breaking down a more complex project into smaller components and deliverables. Many times projects require an invoice to reflect the way the project was bid. Providing a WBS ensures the estimate is managed and billed the way it was proposed. Unfortunately, QuickBooks limits the ability to pursue projects with more advanced requirements because it cannot easily track efforts in this manner. For many professional services firms, this is essential functionality needed to initially price/propose, manage, deliver, and invoice these projects.
QuickBooks Hinders Growth
The idea of a more 'open ended' system experience that can truly conform and adapt to evolving business requirements becomes more appealing. Those cascading menu options, check boxes, and configuration screens that may have once been viewed as intimidating and inaccessible may quickly start to make more sense. Deltek can easily accommodate growing firms. This is why 80% of AEC firms use Deltek. It has all the utilities, under the hood to handle the needs of future growth. As a professional services firm grows, its bookkeeping system should be able to scale and enable that progress, versus introducing hurdles and limitations.
Grow Quicker with Deltek
To reiterate, there is nothing inherently wrong with QuickBooks. If there were, it probably wouldn't be the widest-deployed entry-level accounting system in the market. But the unique requirements of a professional services firm can still quickly create situations where to bring a firm to the next level, it needs to be re-tooled with industry specific solutions.
ERP is not just for the 'big guys' anymore. The introduction of cloud-based applications (relieving clients of internal IT requirements), and also packaging and implementations catering to small firms, has opened many doors over the last several years. In fact, a majority of current day Deltek clients could be considered SMBs, who previously came from QuickBooks.
Have additional questions? Full Sail Partners and Deltek got it covered. Deltek Vantagepoint is an industry-leading project-based ERP designed to support the entire project lifecycle. Having extensive experience with new system implementations (to include data migration, system configuration, and product training), Full Sail Partners has helped hundreds of clients graduate from QuickBooks. Please contact us to start a discussion.