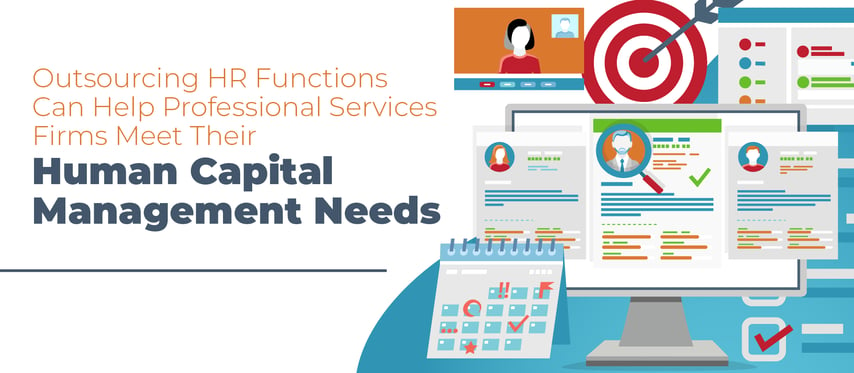 The professional services industry is still currently facing challenges ranging from financial rebounds and technological transformations to the need for human capital management (HCM) adjustments. Specifically, some of the top HCM trends affecting the professional services industry are:
The expectation of mobility -

Employees and job seekers are looking for companies that have the structure and technology to accommodate remote work. Also, many companies have redesigned their physical office layouts and performance management plans to account for remote staff.

Power shift to employees and applicants -

The shortage of viable talent has shifted the supply and demand dynamics where the employees and candidates feel empowered to ask for what they want and have options if those requests are not accommodated.
Struggles to find the right fit for positions due to skills gap issue -

Due to the great resignation and the influx of early retirees, there is a gap between those seeking work and those actually qualified for the hiring needs.

Workplace balance is no longer a "buzz" term or trend; it's a real thing -

The pandemic caused most to reflect on their priorities and many changed their mindsets, habits, and lifestyles to cater to the well-being of themselves and their loved ones, even if it involved making employment sacrifices.
What does HR have to do with these trends?
The human resources function is key to effectively addressing these HCM shifts. Organizational leadership is increasingly aware that attention to the needs and wants of their current and potential employees is pivotal to their growth and success. So, they are reevaluating their processes, procedures, incentives, and benefits to account for these trends, and outsourcing HR is a part of that consideration.
What are the primary essential functions of HR?
The primary HR functions are Human Resources Information Systems (HRIS), Benefits Administration, Talent Acquisition & Onboarding, Employee Relations, Training & Development, and Compensation (Payroll/Total Rewards). These functions are all critical to addressing these impacting HCM trends.
What role can these HR functions play in affecting these trends aka challenges?
The expectation of mobility:
Having an effective HRIS system to electronically manage and house employee data has become common and necessary to maintain efficient communication, consistency, integrity, and security. This also allows the data to be managed from any location where technology is accessible.
Power shift to employees and applicants / Struggles to find the right fit for positions due to skills gap issue:
Development and management of attractive, competitive benefits and compensation plans will impact retention of existing employees and attract top talent. Offering performance management and training & development that supports career development is a sign to current and potential employees that their worth is valued and sends the message to them that being with the company also brings and ROI for them. Employee relations and training & development are being redesigned so that the quality, availability, and frequency of meetings and training are consistent whether in-person or virtual.
Workplace balance is no longer a "buzz" term or trend; it's a real thing:
Efficient benefits administration ensures that providing the best health insurance options, a fair and generous leave policy, a well-structured retirement plan, and additional employee perks are top priorities for a company that invests in the well-being of its greatest asset…its employees.
"Total rewards" is the combination of benefits, compensation, and rewards that employees receive from their organizations. Where wages and bonuses are still important to employees, intrinsic rewards are equally important. So, recognition, workplace flexibility, and career opportunities provide them with that.
Having a dedicated, experienced HR professional is a must for all professional services firms
The HR functions needed to address HCM trends require specific skillsets and knowledge bases, such as:
HRIS – Knowledge of HR software, familiarity with business analysis tools, exposure to technological functions and jargon
Benefits Administration – Foundation of most benefit plan designs, knowledge of benefit coverage laws and market trends
Talent Acquisition & Onboarding – Negotiation skills, data analytics, experience with recruiting software, social media management, sourcing experience
Employee Relations – Excellent communication and people skills, great listening and observation skills, conflict management techniques, knowledge of performance management plans, experience conducting appraisals and grievances
Training & Development – Project management skills, coaching skills, knowledge of and experience with training software, presentation skills, organizational skills
Compensation – Financial education background, proficient Excel knowledge, payroll experience, total rewards knowledge, ability to conduct salary analysis
Furthermore, these descriptions just skim the surface of what's required to perform these HR functions. The extent to which each skill set is needed or required depends on factors like the firm type, size of the firm, and firm goals. Surprisingly, some professional services firms have designated a payroll manager or executive for the task of performing these HR duties in addition to their primary responsibilities. Yet, to be most effective in addressing these HCM trends, these professional services firms need a dedicated, experienced HR professional.
How can outsourcing HR functions help professional services firms?
HR outsourcing is the use of an outside service to handle some or all of a firm's HR tasks. Many firms have designated teams within the HR department to handle the different functions. Often, though, smaller organizations (100 employees or less) don't have the physical capacity or financial ability to support multiple people performing those duties or even one full-time dedicated HR person to work in a generalist capacity. Moreover, firms that are not necessarily small but are transitioning into larger organizations, and may be assessing their needs, may want to slowly grow their core teams.
Outsourcing HR functions can provide the necessary resources without requiring the full commitment of new employees. Especially in cases where an executive has been the designated HR professional, outsourcing HR functions will allow that business leader to focus on core business processes. Also, the employees will appreciate having a person who is specialized in employee-related issues and is not a direct decision-maker in their career trajectory. Finally, HR consultants can be an additional resource to professional services firms by providing additional support, guidance, and advice in areas where there may be a skills gap, knowledge gap or even a lack of time and resources.
Outsourcing HR functions has many pros to help meet HCM needs
Pros
Access to HR expertise

Saves money because firms don't have to hire new full-time employees

Opens access to additional benefits

HR connections can lead to lower cost benefits and access to other global resources

Maximizes compliance

Minimizes legal risks
Cons
Leadership may feel a lack of control

Might feel impersonal to employees

Risks with intellectual property access

Service quality control
Undoubtedly, every professional services firm requires certain functions that are focused on HR needs/wants and provides a neutral, trusted and knowledgeable resource that supports both the firm's and the employees' well-being. To address the shifting Human Capital Management trends in the present and future of the professional services industry, HR professionals are a necessity. For those firms that are not able or do not want to hire a designated HR professional to handle these significant HR functions, outsourced HR is the right choice to meet these changing HCM needs. Click the image below to learn more and see if this is an option for your firm.