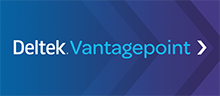 Great news! Deltek Vantagepoint is continuing to expand its capabilities and more Deltek Vision users are able to upgrade from Vision to Vantagepoint. However, it seems some are either unaware of what Vantagepoint is or they're hesitant to accepting change. Therefore, let's take a moment to inform people about what Vantagepoint is and why you should be extremely excited about transitioning to Vantagepoint in the near future.
What is Deltek Vantagepoint?
In short, Deltek Vantagepoint is a Vision reimagined with several enhancements. When using Vantagepoint, users will find its new functionality easy to navigate. As a result, managing projects and driving business development will be much easier with more streamlined processes and workflows. With Vantagepoint, project-based business will see an increase in efficiency in all aspects of their business.
New Look and Feel
Deltek Vantagepoint is a web-browser based ERP that is built on the iAccess for Deltek Vision platform. When Deltek was creating Vantagepoint, a top consideration for them was creating a product that has a great user interface (UI). Studies have found that software products with an intuitive UI have a significant increase in user adoption. Therefore, Deltek knew that having a high-quality UI was essential, but they took it one step further.
"Hey Deltek"
Deltek is taking simple functionality to the next step. In today's world, hey…Siri, Google, and Alexa are common features we use to access information from our smart device or the internet. Well, Deltek has created "Hey Deltek" to help users search through their database using voice commands. "Hey Deltek" utilizes natural language commands to help locate, open or create a new hub record, log activities and create reminders using a common phrase. Keep in mind, this product is still in development and the capabilities of "Hey Deltek" will continue to grow and allow users to update timesheets, expenses and more using voice commands.
Improved Dashboards and Dashparts
Start seeing the information that is important for your role in colorful graphs and charts right on your dashboards. With an improved UI, Vantagepoint users can easily setup dashparts that allow them to make actionable decisions faster. Furthermore, they can select how they want to see the information. Now there are several ways to see your data. Users can select from different types of graphs and bar charts and tables to better visualize data.
Get Prepared for Deltek Vantagepoint
While change can be scary, it shouldn't be the case when upgrading to Deltek Vantagepoint. Deltek has taken very meticulous steps to ensure Vantagepoint is a vastly improved ERP product that is focused completely on helping project-based businesses improve their performance. If you're a current Vision user, it is highly recommended that you start using iAccess (if your firm has it enabled) to get yourself comfortable with navigating around Vantagepoint as these are similar interfaces.