In May 2021, Full Sail Partners conducted its first-ever email marketing trends survey. We wanted to gain insight as to how many firms have fully embraced email marketing as a proactive marketing strategy. And, if the effects of the worldwide pandemic, when many face-to-face meetings and conferences have been canceled, adjusted firms' email marketing strategy and results.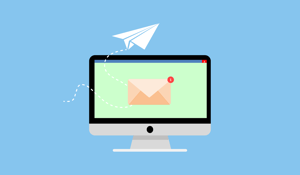 General B2B Statistics
Before the results from the Full Sail Partners' survey are previewed, let's take a look at some other statistics focused on email marketing and business to business (B2B) marketing strategies.
Billions of emails are sent every day. 306 billion to be exact. And, according to The Radicatti Group, that number is expected to reach 361 billion by the end of 2024.
Email helps you reach your clients as fast as possible. With the popularity of social media, you might think it has overtaken email as the fastest way to reach new and current clients. But the truth is that 21% of opened emails are opened within the very first hour of delivery.
In the annual research conducted by Content Marketing Institute in 2020:

85% of B2B organizations use email marketing software to assist with content marketing
81% of B2B organizations use email newsletters as part of their marketing strategy
87% of B2B organizations use email to distribute their content
90% of B2B organizations used email engagement as the top metric to measure content performance

That same research also found that email is the most reliable channel for nurturing leads to sales throughout the funnel.
Email Marketing Trends Survey Results Preview
So how do the responses from our email marketing trends survey compare to some of the national trends? Full Sail Partners invited our clients, prospects, and partners to complete the survey. The invitation was sent via email and shared on our social media channels.
Survey Demographics
The survey responses were from firms that provided mostly either engineering (41%) or construction (28%) services. Half of the responses were from firms that had either 1-50 (36%) or 51-100 (25%) employees. The other half of the responses broke down into the following: 101-500 (29%), 501-1000 (2%), and 1001+ (8%) employees.
Full Sail Partners is a Premier Partner for Deltek Vision and Vantagepoint. So, one of the questions asked if the firms responding were users of either software. Of the responses, 40% are either a Deltek Vision or Vantagepoint user, 58% were not users, and 2% said other. The one "other" response indicated that they are currently using another CRM software system.
Overall Firm Marketing Strategies
Before we asked about email marketing strategies, we asked respondents what marketing channels their firm currently uses. They could respond with multiple answers. The top three marketing channels included website, social media, and email. This seems to be consistent to the other independent research noted above.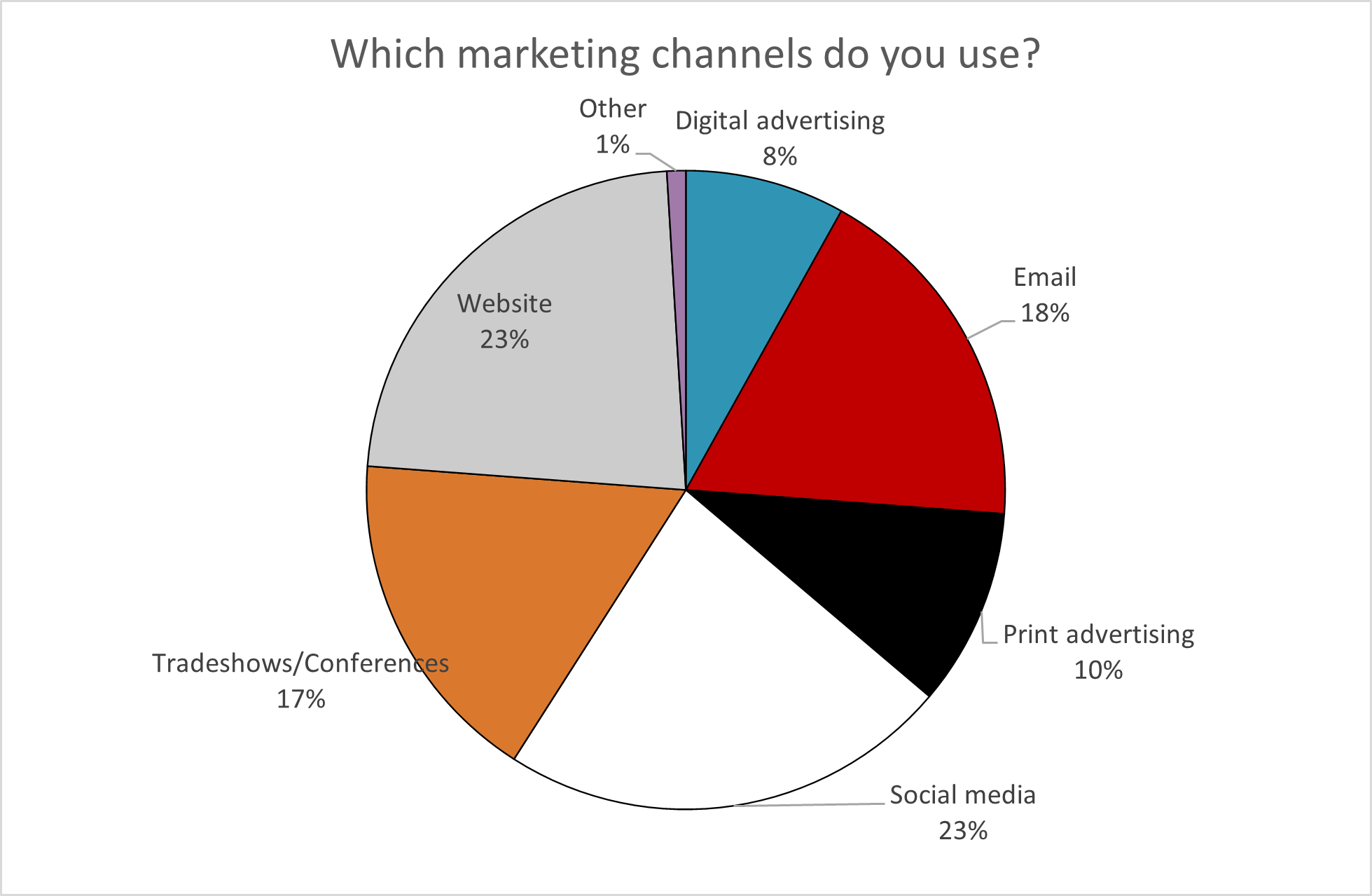 Today's Email Marketing Strategy
The survey also wanted to gauge how professional services firms are using email marketing today. We asked questions including goal/purpose for email marketing, frequency, type of email campaigns, and how the firms track success of their email marketing efforts. These were asked in a combination of quantitative and qualitative questions.
The biggest goal/purpose for email marketing is for brand awareness (41%) with lead nurturing well behind at 26% of the responses.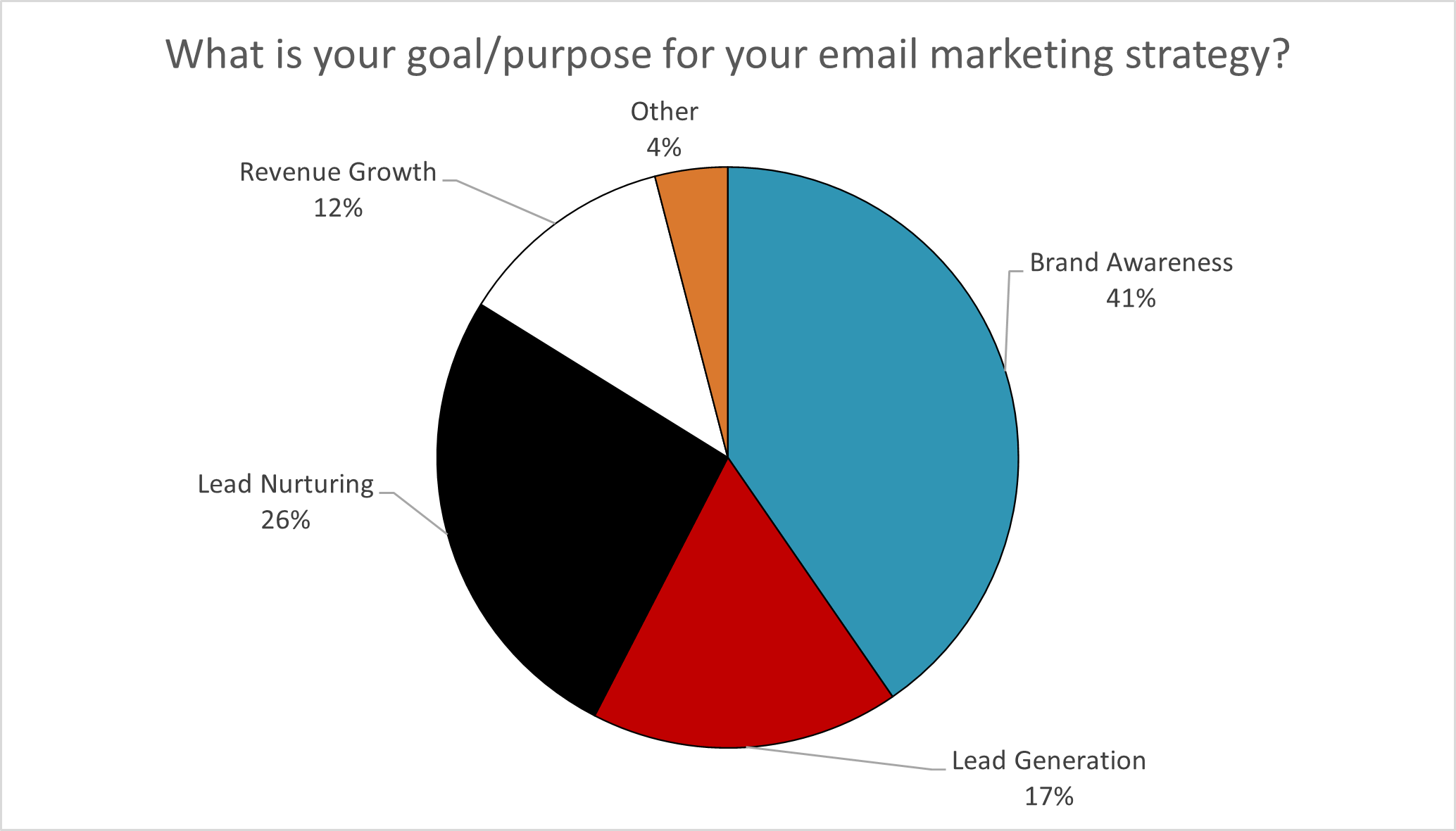 The main types of email marketing campaigns sent by the respondents included regular newsletters (33%), highlight emails (23%), and promotional emails (23%).
When asked for a brief overview of the firm's email marketing strategy, objective responses ranged from simple holiday greetings to organized targeted campaigns. Some of the consistent qualitative response themes include:
Holiday greetings
Announcements such as new hire, employee promotions, new office, or office move
Sharing content produced by the firm like blog articles
Teaming and bid opportunity alerts to contractor and subcontractor lists
Event invitations around either webinars or attending conferences/tradeshows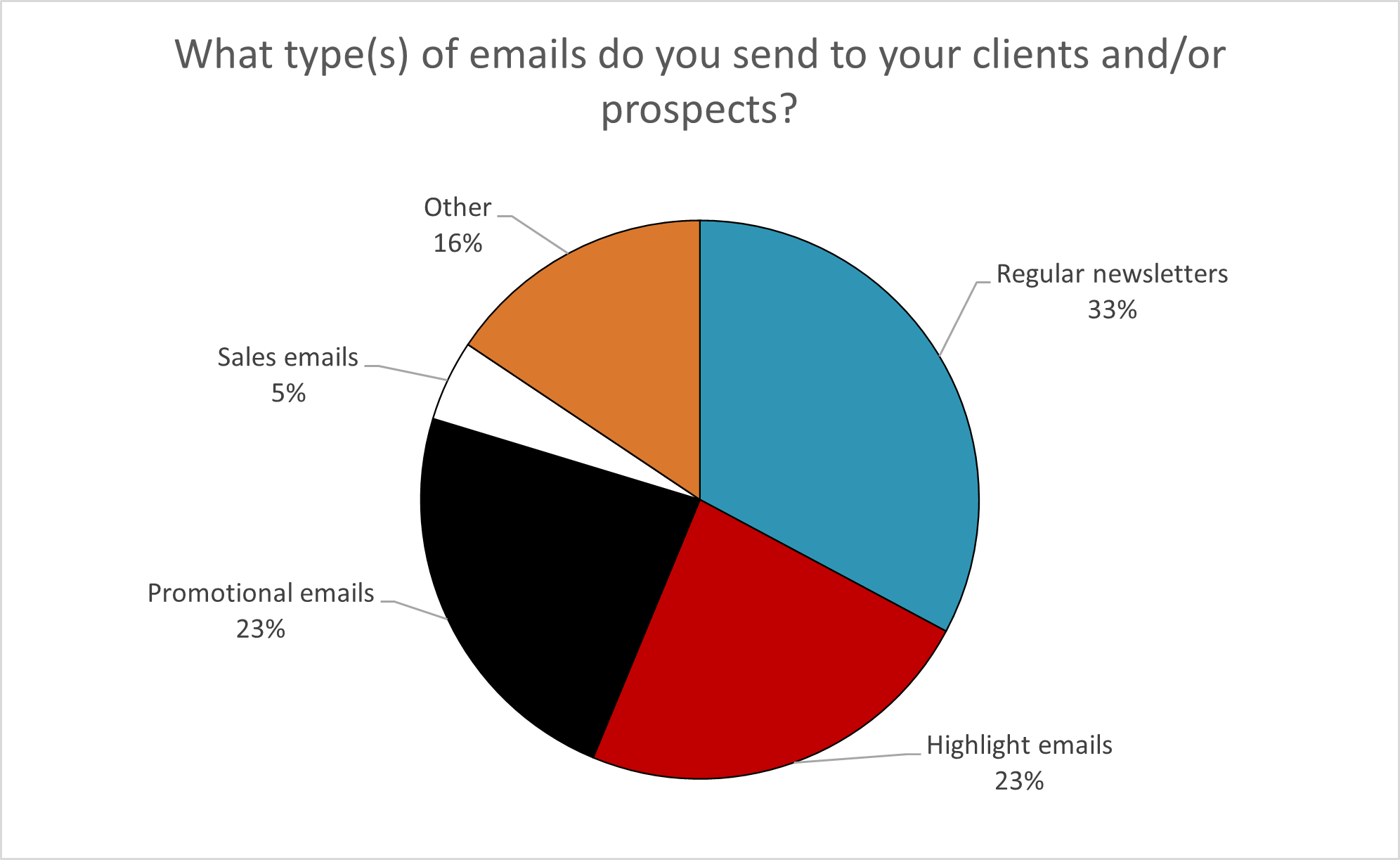 When asked how frequently email campaigns are sent, nearly half of respondents send their email campaigns quarterly (46%) with another 21% sending monthly. Some of the other responses included bi-weekly sends as well as sending depending on specific promotions.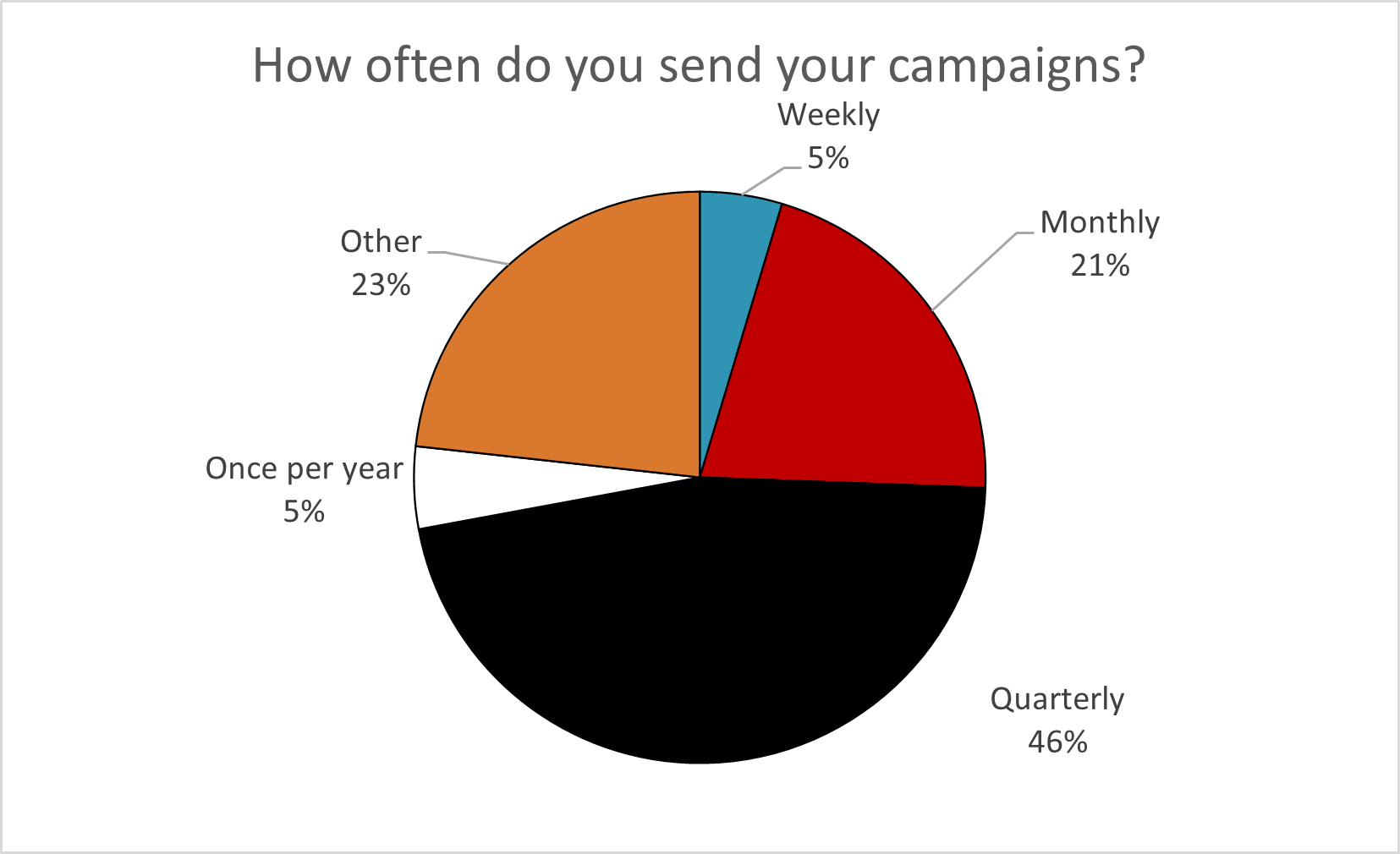 Email Marketing Changes Due to Pandemic
Another reason for conducting this survey was to gauge how email marketing strategies and engagement have changed, if at all, during the pandemic. Since the beginning of the pandemic, many face-to-face meetings and conferences have been canceled or transformed into virtual events. Staying in front of clients and prospects is critical for maintaining relationships for professional services firms. And, email marketing may be one way the pandemic has affected this.
First, we wanted to know if the firms' email marketing strategy changed during the pandemic. Nearly half of the responses said their email marketing strategy DID NOT change (45%) while 20% indicated that they did increase the amount of email marketing efforts during the pandemic. Interesting is that 23% of the responses were not doing any email marketing before the pandemic and still haven't started.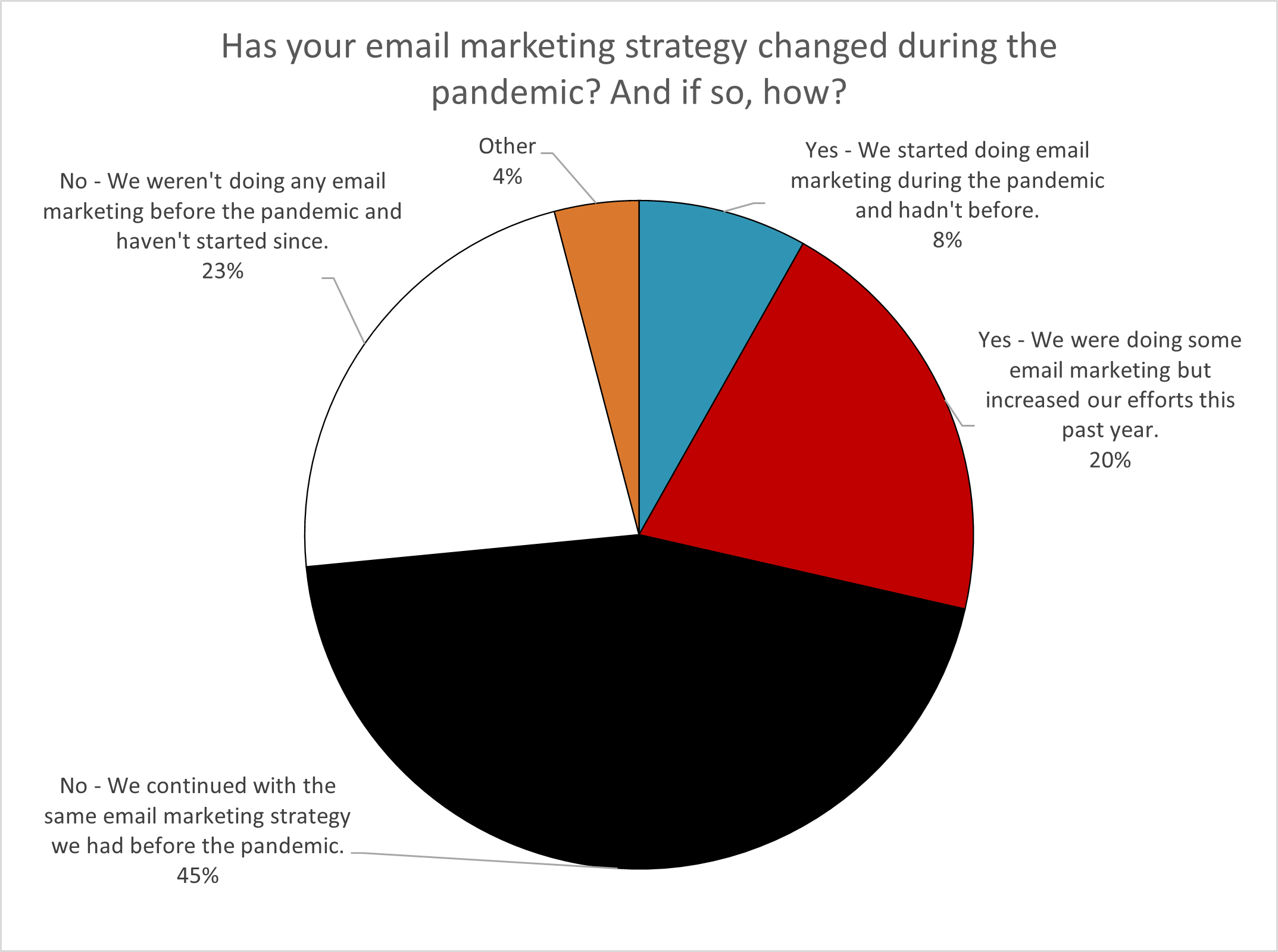 Next, we wanted to gauge the results of the firms' email marketing efforts during this past year, regardless of any changes to their email marketing strategy. According to the responses of this survey, the majority said that everything has stayed about the same (38%). However, 18% did say that their email engagement has increased.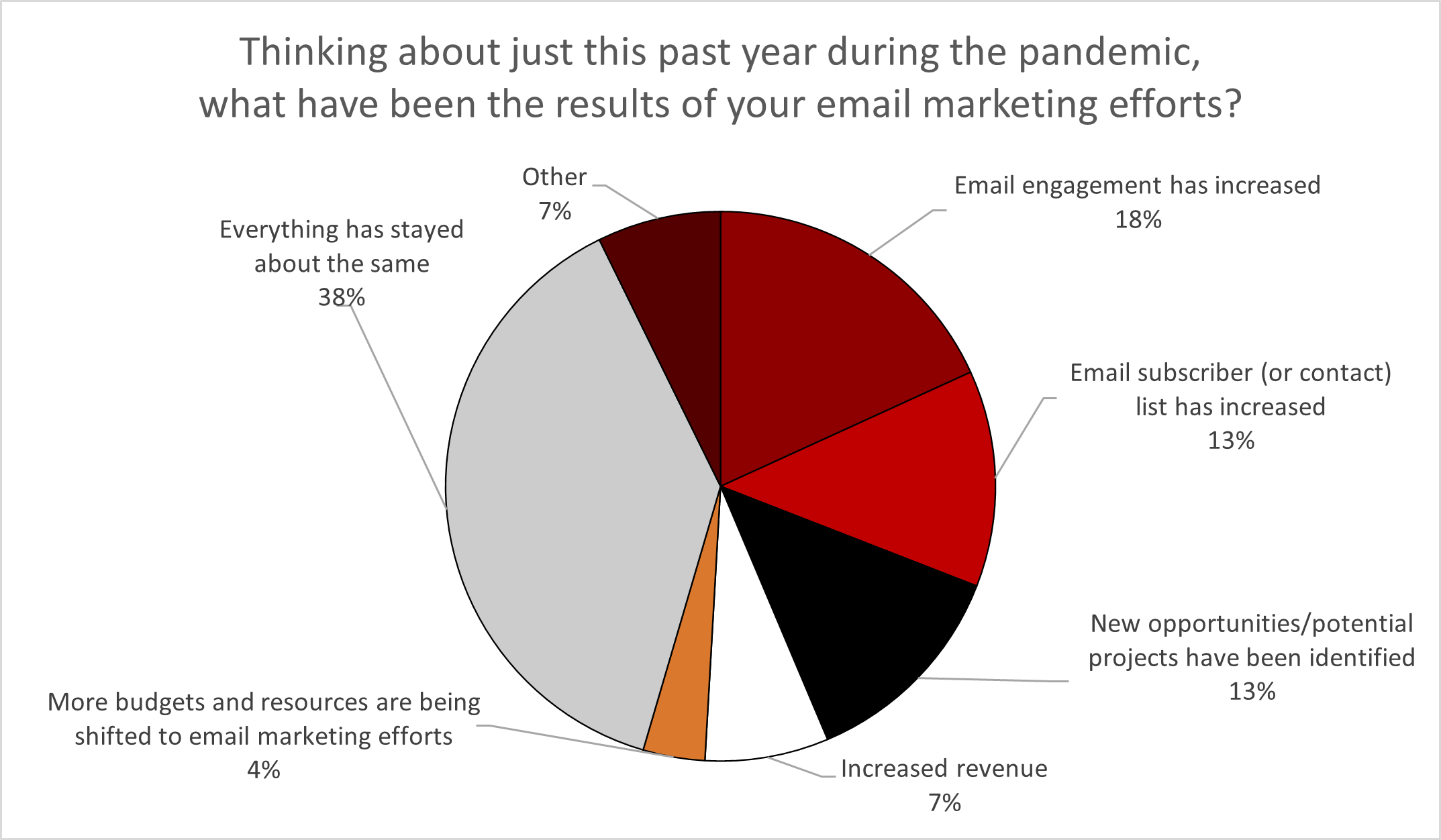 What's Next
This is just a preview of the email marketing trends for professional services firms' survey results. More results and recommendations will be shared on the June 30, 2021 webinar. During that webinar, Full Sail Partners along with a very special guest will be talking about:
Why email marketing is a must-have for professional services firms,
What's working right now for B2B firms,
How to get started in email marketing,
Resources available from Full Sail Partners and SubjectLine.com
To register for this free webinar, click the image below.