With the uncertainty of 2020 behind us, many AE firms are optimistic about the future and expect that investment in new technology will likely remain consistent. While a great number of firms are still in the early stages of moving to the cloud and making investments to support a mobile workforce, smaller tech savvy to large-sized firms have already implemented these technologies by 2021 and are seeking out IT solutions that improve project delivery and ultimately their bottom line. According to AE firms that participated in the 42nd Deltek Clarity study, adopting new technologies to support firm growth and client needs is a priority, however, selecting which technologies will produce the desired results and provide a noteworthy return on investment seems to be a challenge.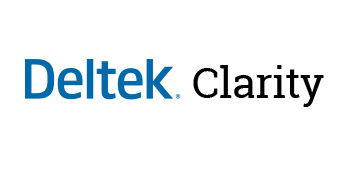 Clarity on Technology Trends for Small Firms
Small AE firms, those with less than 50 employees, reported in the Deltek Clarity study that investments in new and emerging technologies will likely see a reduction. Likely, because many of these firms made larger than expected technology investments in supporting the needs of a remote workforce to ensure business continuity during the pandemic. Therefore, many of these small firms are refocusing efforts and spending on revenue generating resources.
Furthermore, small firms typically have smaller budgets for all departments across the board. As a result, they tend to invest in new technologies that are usually more affordable and easier to deploy firm wide. Which brings up another key finding from the Deltek Clarity study – limited internal IT expertise. Small firms and even medium-sized firms both noted that one of the largest challenges with adopting new technologies is having internal experts to help navigate the sea of technology options that serve different and unique purposes. Even more, some firms are likely unaware of which operational processes can be improved with the assistance of technology.
Medium-sized Firms Looking to Go Big
AE firms with 51 - 249 employees, commonly referred to as medium-sized firms, indicated in their responses to the Deltek Clarity study that they are eyeing big data and artificial intelligence (AI) for future technology solutions to support their organizations. However, only 18% of firms reported having an actual plan in place. With a large percentage of firms citing the aforementioned and seemingly consistent theme of lacking internal champions to identify and thoroughly vet new technology. Overall, medium-sized firms as a whole are continuing to straddle between implementing less expensive and simpler technologies with big aspirations to embrace and invest in emerging technologies large firms are already utilizing.
Large Firms Seek Clarity with Big Investments
Large AE firms, defined as having more than 250 employees, will always lead the AE industry when it comes to adopting the latest and greatest technologies since they generally have larger budgets and the ability to spend. As such, larger AE firms that participated in the Deltek Clarity study stated they are continuing to move forward with making large investments in emerging technologies like geolocation, big data and data science with no indication of slowing down. More importantly, large firms revealed in the Clarity study that they have less of a challenge with employing internal technology experts that can provide guidance on future technology investments that are aligned with the needs of the firm.
Similarities Deltek Clarity Identified for All Firms
According to the 42nd Deltek Clarity study, firms of all sizes have some shared challenges regarding technology initiatives. Unsurprisingly, data and cybersecurity lead the way like previous years and will likely continue to be the leading concern for AE firms well into the future. An encouraging finding in the Clarity study is the common strategy all firms are taking to mitigate these risks, with nearly half of respondents stating they are implementing new security policies and protocols. Even more, thirty-four percent of respondents said their firm is planning to outsource their IT administration and infrastructure. Although there are no fail proof safeguards against a cyberattack, being proactive can certainly reduce the risks which is what firms are trying to accomplish.
Do More with Technology and Deltek Clarity
One thing is clear from the Deltek Clarity study, AE firms of all sizes will have to continue to invest in technology just to stay competitive. For small and medium-sized firms that indicated they lack internal experts to help make technology investment decisions as a challenge, maybe they need to consider enlisting the assistance of a company that specialize in the technology needs of AE firms to help with these choices.
Lastly, big data and data science are quickly being adopted in the AE industry. As a result, AE firms will begin to see new technology solutions specifically tailored to meet their needs being brought to market over the next few years. Which adds more complexity for firms when it comes time to decide which technology solutions they should pursue in the future.