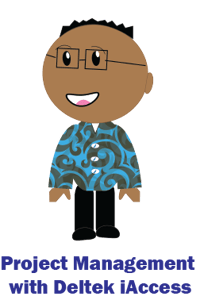 "Project Controls" are formidable words, ones that are necessary for successful project outcomes. Those of you who have used Deltek Vision for many years may recall that "project controls" remain at the core of the Vision system and are the datacenter for all other Vision applications such as billing, CRM, proposals, resource planning, and time and expense. Fortunately for Vision users, accessing project controls has gotten a lot easier with Deltek iAccess.
What are Project Controls?
There is no industry jargon in the name project controls. They do exactly what the name implies. They allow you to manage and control your projects. Furthermore, a complete project control system such as Vision, allows users to:
Document project attributes
Coordinate project activities
Track employee time and expense
Apply direct and overhead costs
Monitor project progress
Generate project reports
Maintain project budgets
Controlling projects requires understanding and making decisions based on the information collected. This can be a challenge if data is not updated in a timely fashion or there is too much information to absorb. So, how can Vision users make these processes simpler?
Enter Deltek iAccess for Project Management
With the addition of iAccess for Deltek Vision, visibility into and ease of digesting information has enjoyed a renaissance. The iAccess interface allows firms to proactively manage and track projects from creation through closeout. The real-time connection to Vision, graphical views, and simple interactive tools for planning and managing the budget make quick work of understanding the status of the project. As a result, users can efficiently manage project future costs and review the expected outcomes.
Gain Better Control of Your Projects with Deltek iAccess
The ability to drive your projects with a full understanding of the past and predictions for the future is the ultimate control. With iAccess for Deltek Vision, this becomes possible. So, what are you waiting for? Take control of your projects, and extend the capabilities of Vision project controls with iAccess.