Full Sail Partners has worked with 200+ firms related to their Deltek Vision to Vantagepoint upgrade process in different capacities over the past two years. Full Sail Partners' goal is to help our clients gain more insight on how to have a smooth and successful upgrade. From the experience and insight gleamed from helping these firms, these five tips have been developed to keep your firm calm.
However, there are two big caveats to consider before diving into the tips for a calm upgrade process.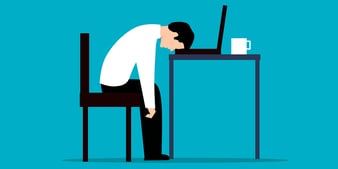 One of the biggest challenges faced when working with clients is misinformation. It's like the game telephone. Someone whispers something to the person next to them and it keeps going down the line. By the time it gets to the end person, the information is completely different. This is happening with information regarding Deltek Vantagepoint. Full Sail Partners strongly encourages firms to get their information from the source. Ask Deltek, Full Sail Partners, or another approved Deltek partner.
Next, is to take a deep breath. Some of our clients come to us in a complete panic. Some clients are concerned about how they will get through the Vision to Vantagepoint upgrade process. Some other clients are worried non-stop. So, let's all take a deep breath. Understand that firms are not alone. Remember, Full Sail Partners is here to help as a trusted partner.
To quote Martha Lira with Impact Sciences that upgraded from Vision to Vantagepoint. "It was easier than I thought. It was smoother than I thought."
Tip #1 – This is an Upgrade, Not a Migration
One thing to remember is this is an upgrade not a migration. This is a key point to understand and communicate to the rest of the company. Misinformation can come from anywhere. It's important that the company's primary contact is communicating to others within the organization.
Furthermore, there is an installer that allows the company to push every single Vision field over to Vantagepoint. This even includes custom field, tabs, and user defined info centers. There is work involved, but significantly less than there is when starting from scratch for a migration.
For finance the processes are very similar. There might be some things that are moved around and there are added enhancements to make it easier, but the learning curve is minimal for finance.
For project managers and CRM users, Deltek has been listening. All the things you have been asking for over the years are being answered. Items like:
Streamlined flow for project managers,
Improved usability,
User-friendly, modern look and feel,
Improved Outlook integration; and
AI capabilities with Hey Deltek! to make doing tasks easier.
Tip #2 – Take Advantage of All the Resources Available
Deltek and Full Sail Partners have many resources, most of them free. If you haven't viewed any resources, you are doing yourself and team a disservice. Share the resources to all departments of your company. These resources include:
Tip #3 - Engage All User Groups
This is the opportunity to become the "hero" of collaboration by bringing in other departments and users. This is done by understanding that the upgrade from Vision to Vantagepoint is less technical and more about inclusion. Vantagepoint is a complete ERP and ERP is about the company, so every role needs to participate to have a calm upgrade process.
Engage with them by sharing the resources in Tip #2 that are related to their responsibilities. Require users in all departments to view and engage with those resources. Take time to understand how each team member will be part of the project lifecycle. Some may be at the beginning. Some at the middle or others at the end. Making sure each of them understands how their information and actions impact others–from marketing to project managers to accounting.
This is a great opportunity to get new employees and people not previously involved with Vision to become 'bought-in' and advocates for Vantagepoint.
Tip #4 – Trust the Process
In assisting 200+ firms in their Deltek Vision to Vantagepoint upgrades over the past two years, Full Sail Partners has fine tuned the upgrade process for firms. While each client's process is specific for them, Full Sail Partners has worked hard to remove the mystery to create a transparent process. This process includes:
Personalized Readiness Report - Readiness Report – This is a tool run against Vision and reports the specific things that the firm needs to address. Every firm is different. The report shows exactly what to clean up. Firms have found this priceless.
Train the Team and Make Adjustments – Get your system in gear and refine the team's knowledge of managing Vantagepoint for a seamless transition.
Make the Shift to Full Production – Leverage transition copy scripts to automate the conversion process from preview environment to production.
Tip #5 – Manage Attitudes and Messaging
With every process, change management is always important to plan for. A big part of change management is attitude. The attitude impacts the success or failure of the change. And, when firm leaderships approaches change negatively, the team will pick up on that attitude. If leadership approaches it positively, the team will feel more confident about the change. Success is impacted by the attitude displayed when approaching the change. Promote this change positively because it's really a good change. Get others excited. The only ways things can be successful is excitement, positivity and getting people to understand benefits they get that will help them in their role. Deltek has been listening, and these changes with Vantagepoint are happening because of feedback from firms like yours.
Next is to prepare the internal teams. Communicate to them that it's important to understand that this isn't a month-long process. Take a deep breath and remove the worry first by taking the time to know what needs to be tackled as part of the upgrade process. Use the Readiness Report to know the areas to be addressed and outline the steps required. Identify team members responsible and a target date of completion. Then start working on cleaning up data, as needed. It's always better to tackle dirty data sooner rather than later. With the upgrade, firms can clean up data before or after the upgrade, but Full Sail Partners has found it better to do it before. Don't forget to outline training and remember this is a great time to take time to make your processes even better.
Make sure to celebrate milestones and the end success. This can be done by letting others in the firm know about those accomplishments and be sure to thank those that dedicated their time and effort along the way.
Keep Calm and Just Breathe
Often, users tend to build up unnecessary worry and think things are going to be worse than they really are. The best way to tackle worry is to write down the challenge and then break it down into smaller steps. Hopefully using these five tips will show the way to a calm Vision to Vantagepoint upgrade.