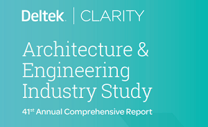 Financial statement data is vital for leadership teams. This data is the basis for measuring firm performance and influencing decisions regarding the firm's future. There are several financial metrics that businesses track and rely on. Based on the findings of the 41st Annual Deltek Clarity A&E Report, operating profit on net revenue has increased for ten years consecutively to 15.8%. This is a 1.4-point jump year-over-year. A variety of other important metrics were addressed in this year's Clarity report as well. The Clarity report reveals where things measured up for 2019.
Top Financial Challenges
The financial challenges have remained similar year-over-year. This year the trend is towards challenges with increasing profitability, finding and retaining qualified staff, and managing firm growth. Although, finding qualified personnel and keeping turnover low is second to increasing profitability. It is also noteworthy that qualified staff is at the top of the list for greater than half of the respondents. Cash flow is floating in the ranks, but it seems that firms are managing it better than in years past. The unpredictable spending environment was only at 11% for 2019, though that is likely to change given the challenges many firms faced in 2020.
Building on Success
While there is economic uncertainty in the year 2020, the results show that firms strengthened their operations in 2019. Operating profit continues to rise steadily, as it has over the last decade. Of note, small businesses saw a strong increase, rising to 15.9% operating profit, up 3.5% from the prior year. The net labor multiplier has seen a minor increase as well, reaching 3.03 last year. That's the highest multiplier measured for the industry in ten years.
Another significant metric tracked by firms is the utilization rate. It is calculated as cost of labor charged divided by total labor cost. This metric remained steady with the prior two years, except for Architecture firms that showed an increase of 2.3% points year-over-year. Employee retention is a factor within this metric. Firms with higher utilization also tend to show lower turnover rates as well as higher net revenue by employee. Does this show us that working employees are happy employees? Findings will show that investments in technology and training can keep employees engaged and productive in producing revenue.
Net revenue per employee is yet another metric to see a positive increase. This could be attributed again to the investment in technology and training, an already high productivity amongst employees, increased rates, or possibly better efficiency driving projects to completion. Since obtaining qualified staff remains difficult, firms are working with existing teams to accomplish more. Burn-out should be a consideration and cutting associated costs or wages could be disadvantageous.
With employee cost being a possible factor in retention it is important to track trends and analyze total employee cost as a metric. This is calculated as the sum of total labor and other labor related costs, (such as fringe benefits and taxes but excluding bonuses) divided by the average number of employees during a year. This returned data shows that there was not an overall noticeable change. Payroll expenses and employee numbers increased at higher percentages which in turn drove the decrease in overall cost. Where the year prior it had showed a small decline, we may see a more drastic change in 2020.
The average collection period calculation divides accounts receivable by annual total revenue, multiplied by 365. This is an important metric for cash flow stability and deserves a great deal of attention. There has been small improvement or decline in average days amongst all firms. In comparison, small businesses and high performers stand out as having notably improved. It is important to stay on top of the outstanding accounts receivable to maintain cash flow performance stability.
Preparing for the Future
A&E firms have largely agreed that business process improvements and project management training have a strong impact on a firm's financial health. In addition to those areas, better forecasting should continue to be a top focus area. Addressing and improving these key components can be the key to continued success, even in difficult and uncertain economic times. To read more about financial statement findings, visit the full Clarity report.